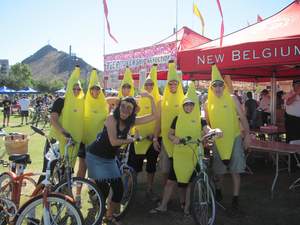 New Belgium Announces 2013 Tour de Fat Schedule



FT. COLLINS, CO -- (Marketwire) -- 03/19/13 -- New Belgium Brewing today announced the long-awaited Tour de Fat 2013 schedule. The tour, now in its 14th year, will spin into 12 cities across the nation. This daylong festival in the park celebrates the bicycle, showcases New Belgium beers, and provides eclectic and engaging entertainment for all. The event is free, yet all proceeds from food and beer go to local biking groups. Over its course, Tour de Fat has raised more than $2 million for nonprofit organizations.

Each festival kicks off with a police-escorted bicycle parade through city streets in celebration of the bike. Costumes are encouraged but not mandatory, though the truly aware come prepared. Each parade route is designed for people of all skill levels, wrapping up at the park for a day of both sensory stimulation and relaxation.

After the parade, the festival stages heat up with national musical acts, touring comedy groups, artistic ensembles and unexpected entertainment. New this year is the opportunity to heighten your beer knowledge through beer contests, providing the chance to explore new brews and revel in a unique lineup of New Belgium selections. Kids of all ages can test their bicycle prowess on art bikes, dance in the grass and explore a wide variety of games and activities, such as giant versions of telephone and Plinko.

"Tour De Fat brings together entire communities to celebrate the bike as a vehicle for social change and good-time fun," said Matt Kowal, New Belgium Brewing's Tour de Fat Impresario. "This is a chance to see world-class entertainment in your own backyard with a beer in hand while you raise money for bike advocacy. That's like a win-win-win situation."

One brave role model in each city will volunteer to trade their car for a bike and live car-free for at least one year. With a ceremonial pledge and a handing over of car keys, the celebrated figure commits to a year of human transport on the fully loaded commuter bike of their choosing. The crowd goes wild and the seed is planted: one inspired person on two wheels can make a difference in each of our communities.

Car-for-Bike Swappers are chosen after submitting an application describing why they are ready to give up their vehicle for the gift of two wheels: www.newbelgium.com/tour-de-fat.

Tour de Fat seeks to leave as small an environmental imprint as possible. Each stop has a solar-powered stage decked out in recycled materials and vendors who operate off the grid. In addition, the festival trucks and transport use biofuel sourced from recycled waste oils. Here is how you can do your part:

•Please bring only what you need; •Compost and recycle your waste at convenient stations; •Ride your bike or carpool with friends and family; •Spread the word about bikes -- we will show you how!