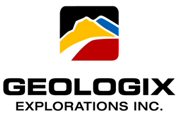 VANCOUVER, BRITISH COLUMBIA -- (Marketwire) -- 03/19/13 -- Geologix Explorations Inc. (the "Company" or "Geologix") (TSX: GIX)(FRANKFURT: GF6)(BERLIN: GF6)(MUN: GF6)(STUT: GF6)(OTCQX: GIXEF) is pleased to announce the results of its Prefeasibility Study ("PFS") at its 100% owned Tepal Gold-Copper Project (the "Project" or "Tepal") in Mexico.

HIGHLIGHTS


--  The Project's estimated post-tax NPV, at a 5% discount, is $421 million    with an IRR of 28%. (1)--  The Project's estimated pre-tax NPV, at a 0% discount, is $925 million    with an IRR of 36%. (1)--  The Project's estimated payback period is 2.7 years pre-tax and 3.2    years post-tax. (1)--  Pre-production capital costs for the Project are estimated to be $354    million.--  The Project is expected to produce an average of 117,000 ounces of gold    and 49 million pounds of copper annually over its initial seven years of    operation.--  The Project has an estimated mine life of 11.5 years, and an average    milling rate of 38,700 tonnes per day.--  Life of mine cash costs of production, net of by-product credits, are    estimated to be $170/oz. for gold or $0.62/lb. for copper. (1)(1) Based upon statistical four year trailing average metal prices stated    in the 'Economics' section below
"We are very pleased to announce the completion of Tepal's PFS, and encouraged by these promising results," stated Dunham Craig, Geologix's President and Chief Executive Officer. "The production estimates presented by the PFS exceed our previous internal estimates, and we believe the anticipated pre-production capital costs are manageable. "
"As a result of a redesign of our mill process plant, the completion of this PFS took several months longer than we initially anticipated. Fortunately, the Company utilized this delay to acquire vendor, contractor, and supplier quotations for all major equipment, construction costs, and supplies required by the Project. The benefit of these refined quotations is a significant increase in the accuracy of our operating and capital cost estimates."
"Geologix also proceeded with work on a Feasibility Study for Tepal during these months. As a result, we anticipate completing this major milestone during the current year. The other major objective in our near future is to secure financing for the Project's pre-production capital cost of $354 million. We believe this funding should be available through a consortium of metal traders and streamers, smelters, equipment financiers, and commercial bank syndicates. The Company is currently in active discussions with multiple institutions within these groups."
Summary Economics
Summary PFS economics are detailed below. Economic metal prices used are derived from statistical trailing price averages for three year, four year and five year periods through February 2013. Four year trailing metal price averages are used for the base case economics outlined below unless otherwise noted. All dollars are expressed in $USD.
Three year ("3 Year") metal price average: $1,518/oz. gold, $29.58/oz. silver, $3.71 /lb. copper
Four year ("4 Year") metal price average: $1,390 /oz. gold, $26.03 /oz. silver, $3.44 /lb. copper