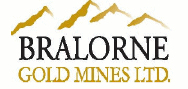 VANCOUVER, BRITISH COLUMBIA -- (Marketwire) -- 03/19/13 -- Bralorne Gold Mines Ltd. (TSX VENTURE: BPM)(OTCQX: BPMSF)(FRANKFURT: GV7) ("Bralorne" or the "Company") provides the following update of results at the Bralorne mine project located near Gold Bridge, British Columbia, where the Company is exploring and building a new gold mining operation.

MILLING

Milling results for the fiscal year ended January 31, 2013 have yet to be finalized. Preliminary numbers indicate a total of 27,546 tonnes were milled at an average feed grade of 8.1 grams per tonne gold (0.235 ounces per ton). Total estimated gold recovered was 6,247 ounces, including 3,676 ounces from gravity concentration and 2,570 ounces of gold in 511 tonnes of flotation concentrate. Mill availability was 74% and the average throughput was 101.6 tonnes (112 tons) per day for the time operated.

MINE DEVELOPMENT

In 2012, the main objective was pre-production development of the BK-3 zone to define mineralized shoots and prepare for extraction. Early results from the BK-3 development indicated very high grade mineralization on the first sublevel. The first drift along the vein at the 3800 foot elevation exposed a highly mineralized vein with an average grade over a length of 160.0 metres (525 feet) of 68.7 grams gold per tonne (un-cut) over 0.8 metres true thickness or 27.1 grams per tonne with high assays reduced to 51.4 grams per tonne. Subsequent development above and below this level indicated the high grade mineralization occurs where two veins join and is not as extensive as originally anticipated. Overall, a large amount of mine development was achieved during the fiscal year and our objective was completed as scheduled. Mining commenced on the BK3 zone in January.

At times throughout the past year, the operation suffered interruptions and delays due to mechanical and regulatory issues. Limited surface exploration was done because of a late start due to the permit approval delay, but underground drilling resulted in extension of the BK-3 mineralized area. On a positive note, the average daily mill throughput was improved and the Company secured a contract for sale of all of the flotation concentrate that will be produced in 2013.

A Preliminary Economic Assessment technical report was completed in November of 2012 that indicates the current mine plan has a potential NPV of 6.4 million over 4.3 years. Management believes this assessment is conservative because a gold price of US$1500/oz was used for years 2013-2016. The report recommended a program of $18.9 million to further develop the mine and define additional resources to warrant expansion of the operation to 250 tons per day. The company plans to carry out this program as funds become available from the operation and through financing activities.

EXPLORATION DIAMOND DRILLING

The Company drilled 22 core holes for a total of 2,986 meters during the fiscal year ended January 31, 2013. Most of the drilling (18 holes) was underground drilling aimed at extensions of the BK3 and BK North veins. Permitting delays limited the amount of surface drilling completed. In addition, 14 cored holes for 357 meters were drilled with a Bazooka drill to test for mineralized veins adjacent to the workings on the BK3 zone.