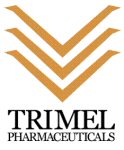 TORONTO, ONTARIO -- (Marketwire) -- 03/18/13 -- Trimel Pharmaceuticals Corporation (TSX: TRL) (the "Company" or "Trimel") today announced positive secondary efficacy endpoint and safety results from the CompleoTRT™ pivotal Phase III clinical study. These results complement the previously announced Phase III pivotal clinical trial results indicating that CompleoTRT™ met its primary efficacy endpoints.

The pivotal study protocol included evaluations of the impact of treatment with CompleoTRT™ on body composition (total body mass, lean body mass, fat mass, percent body fat), bone mineral density, mood and erectile function. Following 90 days of CompleoTRT™ treatment, a statistically significant improvement over baseline was observed in all domains related to erectile function and mood. As well, CompleoTRT™ treatment demonstrated favourable trends with respect to its effect on bone mineral density and improvements in body composition parameters.

The safety study results demonstrated that after 360 days of treatment, the CompleoTRT™ safety profile was consistent with currently marketed topical testosterone replacement therapies. There were no drug related serious adverse events observed at any safety time point during the study, and there was a decrease in mild and moderate drug related adverse events over time. Measures of nasal tolerability demonstrated that CompleoTRT™ was well tolerated in the nasal mucosa, with no adverse event trends.

The collection of the safety data from the Phase III study represents the completion of the clinical development for CompleoTRT™, and following a constructive discussion with the Food and Drug Administration ("FDA"), Trimel is moving forward as planned and expects to file the New Drug Application with the FDA in the second quarter of 2013.

About CompleoTRT™

Trimel's most advanced product candidate, CompleoTRT™, is a bioadhesive intranasal gel formulation of testosterone. CompleoTRT™ is designed with a view to providing hypogonadal patients with superior safety and enhanced convenience over currently available treatment options.

Subject to FDA approval, CompleoTRT™ is designed to be applied to the interior lateral wall of the nasal cavity, where internal studies have demonstrated that the gel is fully absorbed into the nasal mucosa within 15-30 minutes. There is virtually no smell or taste associated with the gel. It is expected that, as a result of the "no touch" targeted delivery to the nasal mucosa, CompleoTRT™ should avoid skin-to-skin transference to spouses or other family members, a health risk that led the FDA to issue a "black-box" warning in May 2009 for secondary transference for all topical testosterone gel preparations.

About Trimel

Trimel Pharmaceuticals Corporation (TSX: TRL) - Trimel is a specialty pharmaceutical company actively developing medications for male hypogonadism, female sexual dysfunction and various respiratory disorders. CompleoTRT™, a product utilizing Trimel's licensed bioadhesive intranasal gel technology, has successfully completed its pivotal Phase III study for the treatment of male hypogonadism, a condition commonly referred to as "Low T", and Trimel is preparing to file its New Drug Application with the FDA in the second quarter of 2013. For more information, please visit www.trimelpharmaceuticals.com.