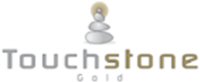 TORONTO, ONTARIO -- (Marketwire) -- 03/18/13 -- Touchstone Gold Limited (TSX: TCH)(AIM: TGL) ("Touchstone Gold" or the "Company") is pleased to report positive results from preliminary metallurgical test work completed by Acme Metallurgical Laboratory (AcmeMet) in Vancouver, Canada for its Segovia Gold Project in Antioquia, Colombia.

Highlights


--  Positive results from metallurgical tests conducted on two composite    samples: Pepas #1 and Pepas #2--  Initial results indicated recoveries from 87.9 to 95% gold in flotation    concentrate--  Cyanide leaching provided recoveries ranging from 40.5 to 90.7%--  First phase of a 15,000-metre diamond drill program currently underway    at the project, with first assay results expected in April 2013--  A Summary of the results is presented in Table 1 below:Table 1 - Summary of Recoveries by Method----------------------------------------------------------------------------                                                    Recovery %                                      --------------------------------------Method              Sample                             Au                 Ag----------------------------------------------------------------------------Flotation           Pepas #1                         87.9               75.3                    Pepas #2                         95.0               94.4----------------------------------------------------------------------------Gravity Concentrate Pepas #1                 51.9 to 61.6       32.7 to 46.5                    Pepas #2                 42.1 to 50.2       30.6 to 39.9----------------------------------------------------------------------------Cyanide Leaching    Pepas #1                 87.6 to 90.7                N/A(48 hours)          Pepas #2                 40.5 to 67.6                N/A----------------------------------------------------------------------------
"We are pleased to receive such encouraging results from the preliminary metallurgical testing for our project," commented Dave Wiley. "These results give us a better understanding of the deposit's recovery profile of high grade sulphide mineralization and provide direction for how we can further optimize the processing procedures being investigated.
The next step in our metallurgical test work will be analyzing a much larger bulk sample and further honing the parameters used for each potential recovery method. Our drill program at the project is continuing in parallel and we look forward to updating the market further in due course."
Details
Preliminary scoping metallurgical test work was conducted on two composite samples, Pepas #1 and Pepas #2, taken from the Rio Pescado Property at the Company's Segovia Project. The primary purpose of the test program is to investigate the recovery and extraction of gold by batch froth flotation, gravity and cyanide leaching processes.
Composite Pepas #1 and Pepas #2 consisted of bulk samples weighing 88.1kg and 87kg, respectively. Composite Pepas #1 was made up of rock chip samples from underground artisanal workings at Pepas. Composite Pepas #2 was made up of coarse core rejects from selective sulphide high-grade drill core from the Pepas area. The head assays of gold (Au) and silver (Ag) are summarized in Table 2 below:
Table 2 - Sample Head Grade----------------------------------------------------------------------------Composite ID                                 Au g/t                   Ag g/t----------------------------------------------------------------------------Pepas #1                                        5.8                      5.5----------------------------------------------------------------------------Pepas #2                                       26.3                     13.5----------------------------------------------------------------------------