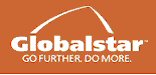 MISSISSAUGA, ONTARIO -- (Marketwire) -- 03/18/13 -- Editors Note: There is a photo associated with this press release.

Globalstar Canada Satellite Co., a leading provider of mobile satellite voice and data services, today announced the signing of a three year manufacturing, airtime and distribution agreement with Nupoint Systems to expand the Company's M2M data communication service offerings beyond the reach of terrestrial (cellular) communication. Nupoint products and services integrated with Globalstar satellite data services will be used to provide two way communications for M2M data collection and monitoring of customer assets including oil and gas wells, mining sites, water management systems, environmental/weather sites, pollution detection systems, early warning systems and remote security.

Globalstar successfully launched additional second generation satellites on February 6, 2013. Once deployed, Globalstar will be positioned as the first mobile satellite services provider to complete the deployment of a second-generation constellation of low-earth-orbit (LEO) satellites. Combined with the Company's affordable and award-winning suite of consumer retail SPOT products, Globalstar will be uniquely positioned to offer the world's most extensive lineup of highly reliable and lowest priced mobile satellite services to the broadest range of customers around the globe.

"Our team have successfully designed and launched thousands of satellite based devices over the years and after careful testing and evaluation we concluded the combination of great value, excellent throughput and the fact that the second generation constellation is now complete made Globalstar the partner of choice for Nupoint's satellite service," said Wayne Carlson, President & CEO of Nupoint Systems. "Companies can't always choose the location of their assets, but they can choose a reliable and cost effective satellite communications solution to connect to those assets. With Globalstar's recently launched satellites having a design life of 15 years, Nupoint is able to provide reliable two-way connectivity with our customer's data equipment, even in the most remote locations for years to come."

"The capability to acquire M2M data from remotely located assets and transmit that information through the Globalstar satellite network, gives customers of Nupoint Systems the ability to make decisions based upon real-time actionable information," said Jim Mandala, Vice President and General Manager, Globalstar Canada. "Being chosen by a group of experienced Satellite device manufacturers such as Nupoint, further solidifies the industry's confidence of our return as the world's leader in MSS voice and data services. As the first Mobile Satellite Services company to complete the launch of our new constellation, our customers can enjoy the reliability and the continuation of affordably priced satellite services to meet their evolving data communication needs."