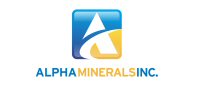 VANCOUVER, BRITISH COLUMBIA -- (Marketwire) -- 03/18/13 -- Alpha Minerals Inc. ("Alpha" or "the Company") (TSX VENTURE: AMW), and its Joint Venture partner Fission Energy Corp. are pleased to announce the discovery of a third zone of uranium mineralization and off-scale radioactivity located 780m east of the original discovery on its Patterson Lake South ("PLS") property in the Athabasca Basin, Saskatchewan.

This news release is for results from two diamond drill holes completed 780m east along trend of the R00E zone (initial discovery zone). These holes are approximately 390m east of the recently announced drill hole 38 at R390 Zone, the second zone of mineralization discovered on the property.

Holes PLS13-048 and 055 were both drilled on section L780E. PLS13-055 intersected three radioactive intervals within sheared, graphitic, chloritic, sulfide-bearing metapelitic gneiss, including two discrete narrow intervals of off-scale radioactivity.

Description of Results from the new R780E Zone

The drill target area at section L780E was designed primarily to test a radon in water anomaly with a value of 3.1 pCi/L. The radon anomaly is on trend to the E-NE from the R00E and R390E zones, and is situated at the east end of the PL-3B EM conductor and associated resistivity low corridor that is terminated by an inferred cross cutting structure.

Hole PLS13-048 is vertical, and tests the center of the radon in water anomaly. A 22.0m interval (155.0m - 177.0m) of weak to moderate radioactivity was intersected in a semipelitic gneiss, below a sequence of alternating pelitic and semipelitic gneiss. Radioactivity within this interval reached up to 2800 cps.

Hole PLS13-055 is vertical, and 15m grid south of PLS13-048. Basement rock from 55.0 to 105.5m consists of alternating sequence of semipelitic and pelitic gneiss. From 105.5m to 190.7m, basement rock is dominantly a pelitic gneiss with pronounced intervals of sulfide-bearing, chloritic graphite shear zones. The shear zone is sub- vertical, with fabrics at low angles to drill core. Within this interval there are multiple zones of anomalous radioactivity ranging in widths from 0.5m - 11.0m (see Table 1). Strong radioactivity is recorded in three intervals of sheared graphitic pelitic gneiss with millimeter-scale blebs of pitchblende:


   a) 109.0m - 114.0m (5.0m) - weak to strong radioactivity up to 9000 cps   b) 139.5m - 145.0m (5.5m) - weak to strong radioactivity including a 0.1m   interval of off-scale (greater than 9999 cps) radioactivity   c) 165.5m - 176.5m (11.0m) - weak to strong radioactivity including a   0.8m interval of off-scale (greater than 9999 cps) radioactivity
Basement rock from 190.7m to 261.2m (EOH) consists of a semipelitic gneiss.
Results at the R780E Zone expand significantly strike extent of uranium mineralization at Patterson Lake along the main target corridor of conductors associated with a resistivity low anomaly. Additional drilling is planned prior to the completion of the current winter program in order to further evaluate this new zone.
Summary of Radioactivity, R780E Zone
To view the table associated with this press release, please visit the following link:
http://media3.marketwire.com/docs/860543Table.pdf
.