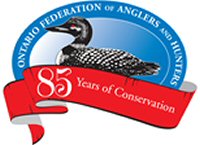 PETERBOROUGH, ONTARIO -- (Marketwire) -- 03/15/13 -- This weekend 80 youth members of the Ontario Federation of Anglers and Hunters will be taking part in the Get Outdoors Youth Leadership Conference held in conjunction with the 85th OFAH Annual General Meeting and Fish & Wildlife Conference.

Tomorrow, this group of young enthusiastic conservationists will be visiting the Dufferin Northern Peel Anglers and Hunters Association for a jam-packed day of hands-on outdoor activity - a great way to finish off the March Break. These OFAH youth members are eager to step up to the line to partake in trap shooting and rifle shooting on certified ranges with one-on-one instruction from qualified instructors to practice safe shooting. Youth will also practice their aim on the archery range, and challenge their fly tying skills as they learn how to tie a woolly bugger and a streamer which they can use for future fly fishing adventures. As part of the Get Outdoors theme, the youth will also be given a couple of outdoor survival challenges to keep their minds active too.

Media are invited to attend the day, which includes terrific video and photo opportunities of youth learning traditional outdoors activities from qualified instructors.


Date & Start Time: March 16, 2013 - 9:30 a.m. sharpWhere: EASY TO FIND -- Dufferin Northern Peel Anglers and Hunters Association, just north of Orangeville, located at 246147 Dufferin Road 16, Orangeville.
The Get Outdoors program is the only program of its kind in Ontario which puts an emphasis on promoting our outdoor heritage through first hand exposure to our rich, outdoor heritage. The program also provides youth with an alternative to digital entertainment, and exposes them to a wide variety of outdoor opportunities.
With over 100,000 members, subscribers and supporters, and 710 member clubs, the OFAH is the largest non-profit, fish and wildlife conservation-based organization in Ontario. For more information, visit
www.ofah.org
.


Contacts:
OFAH
Rachel Pearson
Conservation Outreach Programs Coordinator
705-930-1805
www.ofah.org