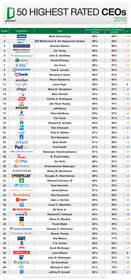 Glassdoor 50 Highest Rated CEOs 2013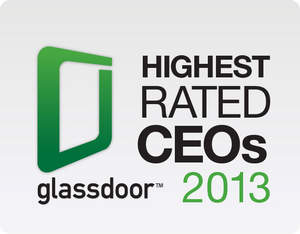 Glassdoor Highest Rated CEOs



SAUSALITO, CA -- (Marketwire) -- 03/15/13 -- Today, Glassdoor, a jobs and career community, has released its latest report highlighting this year's 50 Highest Rated CEOs according to employees. The five highest rated CEOs for 2013 are: Facebook-Reviews-E40772.htm">Facebook CEO Mark Zuckerberg (99 percent approval), SAP co-CEOs Bill McDermott and Jim Hagemann Snabe (99 percent approval), McKinsey & Company CEO Dominic Barton (97 percent approval), Ernst & Young CEO Jim Turley (96 percent approval), and Northwestern Mutual CEO John E. Schlifske (96 percent approval).

"While anyone can assume a position in leadership, not everyone garners their employees' support for how they lead the company. The CEOs who are most successful in gaining employee approval are those who paint a clear vision of what the company is setting out to achieve and how it's going to get there," said Robert Hohman, Glassdoor CEO and co-founder. "To be recognized by your employees as a strong leader also comes as a result of having a solid company culture that helps employees foster the skills necessary to move business forward and meet the needs of customers."

During the past year, Mark Zuckerberg saw his CEO approval rating climb 14 percentage points to a 99 percent approval. One Facebook-RVW1413238.htm">Facebook employee in its Menlo Park, Calif. headquarters said, "An open community from Zuck on down. Mutual trust companywide and sense of community and drive, instilled by our CEO, who we all truly respect."