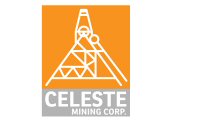 CALGARY, ALBERTA -- (Marketwire) -- 03/15/13 -- Celeste Mining Corp. (TSX VENTURE: C) ("Celeste" or the "Company") announces that it has negotiated a short term financing arrangement with its largest shareholder, Liberty Metals & Mining Holdings, LLC ("Liberty Metals"). Pursuant to the terms of a promissory note (the "Note") Liberty Metals will make available up to $1 million dollars to the Company to pay ongoing operating expenses. Advances may be made from time to time as required by Celeste and interest will be compounded monthly at a nominal annual rate of 10% per annum. Accruing and unpaid interest will be added to the principal balance of the Note and will be payable on the Note's maturity date. The balance due under the Note matures on the earlier of (i) 547 days from the date of the first advance; and (ii) within five business days following the receipt of net cash proceeds by the Celeste or any of its subsidiaries in an aggregate amount of not less than $2,000,000 pursuant to any financing (including debt). In addition, subject to TSX Venture Exchange approval, on each date of advance, the Company shall issue to Liberty Metals a warrant certificate evidencing that number of warrants equal to 40% of the principle dollar amount of that advance divided by the Discounted Market Price (as defined in the TSX Venture Exchange Corporate Finance Manual) of the common shares of Celeste.

As Liberty Metals is a control person of Celeste, TSX Venture Exchange Policy 5.9 Protection of Minority Security Holders in Special Transactions which adopts, in its entirety, Multilateral Instrument 61-101 Protection of Minority Security Holders in Special Transactions ("MI 61-101") requires a formal valuation and shareholder approval of the transaction unless an exemption is available. MI 61-101 provides an exemption from formal valuation and shareholder approval where the issuer's securities are not listed for trading on a prescribed stock exchange and the fair market value of the related party transaction is less than the prescribed amount. The common shares of the Company are not listed for trading on any of the prescribed stock exchanges and the loan under the Note would result in a transaction having a fair market value less than the prescribed amount, as at the date of this release.

Celeste reports that the board is working on a corporate and technical development plan that should position the company for successful exploration and development program, and intends to announce the details of the plan in near future.

Celeste also announces the resignation of David McQuaig as CFO and a director of the Company and Myles McDougall as a director of the Company. Alan Shoesmith, President and CEO of Celeste, commented, "On behalf of Celeste I would like to thank Mr. McQuaig and Mr. McDougall for their time and contribution to the Company".

The Board is pleased to announce that it has appointed Mr. Richard Kelertas as a director. Mr. Kelertas has been one of the most prominent investment analysts in Canada, ranked a "Top Gun" equity analyst by Brendan Woods International (BWI) for the past seven years and in 2010 one of only 14 analysts in Canada to be named a "Super Leaguer Analyst" by BWI. He was most recently a Vice President and Senior Financial Analyst at Dundee Capital Markets. Over the past 35 years, he has held various positions in corporate Canada, encompassing sales, marketing, corporate development, corporate banking and equity capital markets. For the past 25 years, he has been a top ranked equity analyst and has worked for various national and international firms. Mr. Kelertas graduated from the University of Toronto with two science degrees, including a Masters of Science degree. He serves on the board of Strata Minerals.