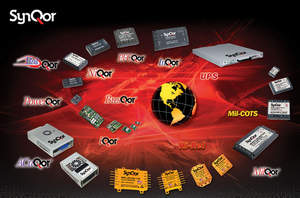 Advancing the Power Curve in converts, supplies and systems.



BOXBOROUGH, MA -- (Marketwire) -- 03/14/13 -- SynQor -- In a unanimous decision authored by Chief Judge Rader, the U.S. Court of Appeals for the Federal Circuit in Washington D.C. affirmed the decision of the US District Court for the Eastern District of Texas and upheld a $95M jury verdict previously won by SynQor, as well as the Court's additional award of supplemental damages and sanctions. "This is a complete and total victory for SynQor" remarked Dr. Martin F. Schlecht, President and Chief Executive Officer of SynQor. "We hope that the defendants in this case, their customers and any other suppliers to those customers take note and respect our patents going forward," he continued.

The case involved the appeal of SynQor's 2010 patent litigation victory against industry suppliers of unregulated and semi-regulated bus converters used in Intermediate Bus Architecture applications. The original case was tried to a jury in the Eastern District of Texas. (SynQor, Inc. v. Artesyn Technologies, Inc. et al Civil Action No. 2:07-CV-497 E.D. Texas).

"We could not be more pleased with the verdict from the Court of Appeals", commented Dr. Schlecht. "The Court not only upheld the jury's findings of infringement and validity of each of SynQor's patents, but also upheld the jury award of lost profits damages, as well as the Court's supplemental damages and sanctions awards. The decision also preserves the permanent injunction that has been fully in place since September 30, 2011. Unregulated and semi-regulated intermediate bus architecture is of tremendous value to the telecom and datacom industries and we are excited about the prospect of being the only company in the world with the ability to legally supply OEM's and other customers with their US requirements for such products".

In the original case, SynQor asserted 5 patents against 11 of the largest industry suppliers of unregulated and semi-regulated bus converters in the US District Court for the Eastern District of Texas. Since that time, SynQor has commenced a new action against Cisco Systems and Vicor Corporation for infringement of the same patents. SynQor, Inc. v. Cisco Systems and Vicor Corporation, Civil Action No. 2:11-CV-54 E.D. Texas.

Also pending before the District Court is an action for, among other things, supplemental damages and sanctions against Astec America, Inc., Bel Fuse, Inc., Power One, Inc., Murata Manufacturing Co., Ltd., and Murata Power Solutions Inc. for continued infringing sales that took place after the Court first entered its permanent injunction. In that action, SynQor is also seeking sanctions against Cisco based upon its and the aforementioned defendants' violation of the District Court's permanent injunction. SynQor, Inc. v. Artesyn Technologies, Inc. et al Civil Action No. 2:11-CV-444 E.D. Texas.

SynQor's patents at issue in the lawsuit were U.S. Patent Nos. 7,072,190, 7,272,021, 7,558,083, 7,564,702 and 7,269,034.

Dr. Schlecht further stated: "The tireless efforts of the SynQor legal team at Sidley Austin LLP headed by Tom Rein in Chicago, along with Michael Hatcher in Dallas, and too many others to mention, have been extraordinary. We are deeply appreciative".

See the Court of Appeals Decision at: http://www.synqor.com/documents/legal/2011-1191_opinion_3-8-2013_1.pdf

Inquiries concerning the foregoing should be directed to Arthur R. Hofmann, Jr., SynQor's Executive Vice President and General Counsel.

About SynQor
Founded in 1997, SynQor® quickly became the technology, quality and service leader for high efficiency dc-dc converters for the telecom/datacom marketplace. The PowerQor®, BusQor®, DualQor®, iQor™, and NiQor® product lines, combined with SynQor's unmatched lead-times, flexibility, design support and lowest total cost of ownership are the benchmark sought by SynQor's worldwide customer base.

In 2004, SynQor began its successful entry into the industrial, railway, medical and military market segments with the InQor®, RailQor®, ACuQor®, MilQor® and UPS product lines. These new technology leading dc-dc and ac-dc product lines have enabled customers to realize vast savings in space, weight and overall system costs while dramatically increasing power densities and end-system performance. Equally important is the service and support advantage SynQor has brought to customers in these market segments.

SynQor is a privately owned U.S. company headquartered in Boxborough, Massachusetts, which is also the location of all of its manufacturing operations. SynQor has a design center in Dallas, Texas, and sales/marketing offices in throughout the USA, Europe, Malaysia, Korea and China. More information is available on the company's website at www.synqor.com.



Image Available: http://www2.marketwire.com/mw/frame_mw?attachid=2257251


Add to Digg Bookmark with del.icio.us Add to Newsvine



SynQor Contact:
Phone: (+1) 978-849-0600
Fax: (+1) 978-849-0602
E-mail: Email Contact
Address:
155 Swanson Road
Boxborough, MA 01719-1316
U.S.A.