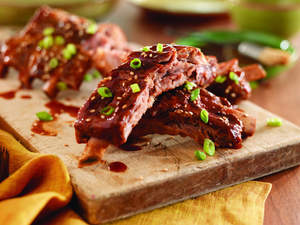 Slow Cooker Hawaiian-Style Ribs


MISSION, KS -- (Marketwire) -- 03/14/13 -- (Family Features) There's nothing better than a juicy, flavorful rack of pork ribs hot off the grill. Whether saucy or spicy, wet or dry, ribs are a versatile pork cut that can take on many of your favorite flavors. But if standing over a grill isn't an option or appealing this time of year, there's good news.

The perfect rack of pork ribs isn't exclusive to hot grates over an open flame. You can also whip them up in your oven or utilize a trusty slow cooker. The path to perfect ribs is simplified with some easy slow-cooking techniques. If you opt for the oven:

•Heat can circulate on all sides when the ribs are lifted above the baking sheet on a rack. •When cooking, cover ribs with aluminum foil halfway through to preserve moistness. •Brush ribs with a marinade or coat with a dry rub the day before and refrigerate for more flavor.

Slow Cooker Hawaiian-Style Ribs add another layer of ease as this Asian-infused recipe boasts a citrus-filled flavor while simmering away in your counter-top slow cooker. What is your favorite way to prep ribs? Share your recipes and discover others from across the country on Pork Social at www.PorkBeinspired.com/porksocial.



Slow Cooker Hawaiian-Style RibsPrep time: 20 minutesCook time: 3 1/2 to 6 hoursYield: 6 servings (4 ribs per serving)2 racks pork back ribs (2 1/2 to 3 pounds each), cut into 3- or 4-rib sections2 cups hoisin sauce*1 cup pineapple juice3 tablespoons grated fresh ginger3 tablespoons sesame oil*3 scallions, thinly sliced (optional)1 1/2 teaspoons sesame seeds, toasted* (optional)
In medium bowl, combine hoisin sauce, pineapple juice, ginger and sesame oil. Arrange ribs in a slow cooker and pour half of the sauce mixture over ribs. Cover and cook on low for 5 to 6 hours or on high for 3 1/2 to 4 hours, until ribs are very tender. Set remaining sauce aside in refrigerator.
About 1/2 hour before ribs are done, remove sauce from refrigerator, to bring it to room temperature.
Arrange ribs on plates or a platter and brush both sides with some of the remaining sauce. Sprinkle with scallions and sesame seeds, if using. Serve remaining sauce at the table.
* You can find hoisin sauce and sesame oil in the ethnic or Asian section of most major supermarkets.
Serving Suggestions:
Serve these ribs in the Hawaiian plate lunch style, with a scoop of white rice, macaroni salad, or slaw on the side. They'd also be good alongside a simple carrot salad or a few slices of grilled pineapple.
Nutritional Information per Serving:
Calories: 770; Fat: 48g; Saturated Fat: 16g; Cholesterol: 135mg; Sodium: 3590mg; Carbohydrates: 65g; Protein: 27g; Fiber: 0g
About Family Features Editorial Syndicate

This and other food and lifestyle content can be found at
www.editors.familyfeatures.com
. Family Features is a leading provider of free food and lifestyle content for use in print and online publications. Register with no obligation to access a variety of formatted and unformatted features, accompanying photos, and automatically updating Web content solutions.
Image Available:
http://www2.marketwire.com/mw/frame_mw?attachid=2249472
Add to Digg
Bookmark with del.icio.us
Add to Newsvine


Michael French
mfrench@familyfeatures.com
1-888-824-3337
http://editors.familyfeatures.com