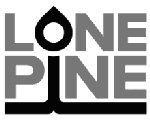 CALGARY, ALBERTA -- (Marketwire) -- 03/14/13 -- Lone Pine Resources Inc. ("Lone Pine" or the "Company") (NYSE: LPR) (TSX: LPR) today announced the Company's year-end 2012 estimated proved and probable reserves determined in accordance with Canadian National Instrument 51-101 - Standards of Disclosure for Oil and Gas Activities ("NI 51-101") and the Canadian Oil and Gas Evaluation Handbook, as evaluated by the Company's independent qualified reserves evaluators, DeGolyer and MacNaughton ("D&M"). D&M evaluated 100% of Lone Pine's properties.

Selected highlights from the year-end 2012 reserves include:


--  Total estimated proved plus probable reserves of 98.2 MMboe--  Total estimated proved plus probable reserves of oil and NGLs of 36.2    MMboe--  Approximately 41% of proved plus probable reserves are classified as    proved and 37% are oil and NGLs--  Achieved 2012 finding & development costs of $18.59 per proved plus    probable boe--  Replaced 195% of 2012 total production from remaining properties on a    proved plus probable basis--  Total estimated proved plus probable reserve life index of 21.8 years    based on fourth quarter of 2012 average daily working interest sales    volumes of 12,328 boe/d--  Year-end net asset value of $8.91 per share based on proved plus    probable before tax PV10
All measures of proved and probable reserves and related future net revenue set forth in this news release are estimates and are based upon a report prepared by D&M evaluating the Company's crude oil, natural gas and natural gas liquids reserves as at an effective date of December 31, 2012 in accordance with NI 51-101 (the "D&M Report"). The estimates are based on forecast prices and costs, using D&M's commodity price forecast as of December 31, 2012 and assuming inflation with respect to future operating and capital costs, all in accordance with NI 51-101.
Unless otherwise stated, all reserves estimates disclosed herein are expressed on a "company gross" basis, representing Lone Pine's working interest share before deduction of royalties. Further information regarding the Company's reserves and other information regarding its oil and gas activities is contained in the Statement of Reserves Data and Other Oil and Gas Information and related reports under NI 51-101 that Lone Pine has filed with securities regulatory authorities in Canada, copies of which will be available on SEDAR at
www.sedar.com
and on the Company's website at
www.lonepineresources.com
.
Lone Pine has also reported its estimated proved reserves as of December 31, 2012 prepared in accordance with U.S. Securities and Exchange Commission ("SEC") rules and disclosure requirements of the U.S. Financial Accounting Standards Board ("FASB") in a separate news release dated today. The differences between Lone Pine's reserves estimates prepared in accordance with NI 51-101 and estimates prepared in accordance with SEC and FASB rules and requirements may be material. See "Disclosure of Reserves Information".
Corporate Reserves Information