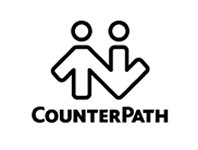 VANCOUVER, BRITISH COLUMBIA -- (Marketwire) -- 03/14/13 -- CounterPath Corporation (TSX: CCV)(NASDAQ: CPAH) ("CounterPath" or the "Company") (http://www.counterpath.com/), an award-winning (http://www.counterpath.com/awards) provider of desktop and mobile VoIP software products and solutions, today announced the financial and operating results for its fiscal 2013 third quarter ended January 31, 2013.


Third Quarter Financial Highlights--  Quarterly revenue of $3.3 million, down 6% year-over-year. Revenue year-    to-date of $11.2 million, up 15% year-over-year.--  GAAP and non-GAAP gross margin of 84%.--  Net loss of $0.2 million or $0.00 per share, compared to a net loss of    $0.1 million or $0.00 per share for the third quarter of fiscal 2012.--  Non-GAAP net loss of $0.5 million or $0.01 per share, compared to a non-    GAAP net income of $0.1 million or $0.00 per share for the third quarter    of fiscal 2012.--  Increase in cash and cash equivalents to $12.8 million as of January 31,    2013, up from $11.7 million as of October 31, 2012.
"The market trends driving demand for our
technology
continue to signal future growth, and we are seeing this reflected in a healthy pipeline of new opportunities with carrier customers and enterprises," stated Donovan Jones, President and Chief Executive Officer. "Our wins with Altibox, Network Norway and Optima Telekom announced during the quarter are indicative of the demand for innovative solutions that increase offerings and value to customers of service providers and provide IT managers the ability to manage costs and improve efficiencies for a growing mobile workforce. While some sales have taken longer to complete, we are very encouraged by the new business activity and are optimistic this will translate into growth in the coming quarters, including our fourth quarter, which is seasonally a stronger quarter."
Recent Operational Highlights--  Announced a joint solution with Acme Packet, based on Acme Packet's Net-    Net session border controller and CounterPath's Bria softphone. The    solution is the first to leverage Acme Packet's implementation of an    emerging standard known as Tunneled Service Control Function (TSCF),    which delivers a secure and high quality alternative for real-time,    over-the-top (OTT) communications targeted at service providers looking    to extend service footprint and increase subscriber base.--  Secured a licensing deal through a channel partner with a North American    cable operator, to launch CounterPath's client and provisioning software    for smartphones and tablets over Wi-Fi to extend the cable operator's    home phone offering.--  Demonstrated and operated an end-to-end network solution called "Bria    play" at the 2013 Mobile World Congress enabling a community of    journalists, analysts and select carriers, enterprises and OEMs to    experience the high quality audio and video offered by our products,    wrapped in an easy, intuitive on-boarding experience.--  Announced Bria mobile softphone to be the core technology behind Optima    Telekom's, Croatia's second largest telecommunications provider, new OTT    VoIP service. "Tornado" enables Optima Telekom subscribers to stay    connected with friends, family or colleagues whether they are in Croatia    or abroad as users are able to call any fixed or mobile number device at    a fixed rate thus reducing costly roaming charges and unnecessary    billing surprises.--  The granting of patent No. US 8,335,187 which outlines the process by    which a Network Convergence Gateway (NCG) detects and monitors a mobile    subscriber's location and automatically routes calls to either a packet-    based (IP) endpoint or the traditional circuit switched entity.