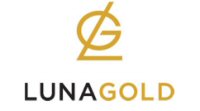 VANCOUVER, BRITISH COLUMBIA -- (Marketwire) -- 03/13/13 -- Luna Gold Corp. (TSX: LGC)(OTCQX: LGCUF)(LMA: LGC) ("Luna" or the "Company") today announced its operational and financial results for the three and twelve month periods ended December 31, 2012 ("fourth quarter" and "full year," respectively).

FOURTH QUARTER AND FULL YEAR HIGHLIGHTS

Operational and Financial Results (all financial amounts in US dollars)


--  Record gold production of 21,547 ounces in the fourth quarter and 74,269    ounces in the full year--  Average unit cash cost of production of $651 per ounce for the fourth    quarter and $734 per ounce for the full year(1)--  Net income of $8.3 million for the fourth quarter and $19 million for    the full year--  Earnings per share of $0.08 for the fourth quarter and $0.18 for the    full year--  Operating cash flow of $8.1 million for the fourth quarter and $24.8    million for the full year
Company Developments
--  Aurizona Gold Mine ("Aurizona") Phase I expansion project approved and    commenced, increasing gold production to a targeted 125,000 ounces per    annum upon completion;--  Agreement reached with Sandstorm Gold Ltd. ("Sandstorm") whereby    Sandstorm will contribute 17% of the required Aurizona Phase I expansion    project capital expenditures, up to a maximum of $10 million--  Recept of positive initial assay results and commencement of a seven    hole diamond drill program at Luna Greenfields' Touro target--  Drill programs completed with positive results at Aurizona's Piaba    deposit and Boa Esperanca, Ferradura, and Conceicao near mine targets--  Graduated to the main boards of both the Toronto Stock Exchange and the    Lima Stock Exchange--  Cachoeira Gold Project sold to Brazil Resources Inc. for a gain of    approximately $7.1 million--  Obtained a new $30 million corporate secured revolving facility with    Societe Generale and Mizuho Corporate Bank in the quarter ending March    31, 2013
For complete details on the 2012 results, please refer to the Audited 2012 Financial Statements, Management Discussion and Analysis, and the Annual Information Filing on SEDAR or the Company's website.
(1) Refer to "Non-IFRS" Financial Measures in Management's Discussion and Analysis Fourth Quarter and Year End December 31, 2012.
STRATEGIC OUTLOOK
2013 Guidance
On January 28, 2013, Luna provided its annual guidance for 2013. The Company anticipates that Aurizona will produce between 95,000 and 105,000 ounces of gold in 2013. The average cash cost associated with this annual production is expected to be between $705 and $715 per ounce. The Company also anticipates completing Phase I of Aurizona's expansion during the fourth quarter of 2013, targeting an increase in the facility's production to 125,000 ounces per annum. This expansion is currently progressing both on time and within its original budget of $49.7 million (including a contingency of $6.5 million), $7.7 million of which had been spent as of December 31, 2012. Sandstorm had contributed $1.5 million of the $7.7 million capital spend as of December 31, 2012. The Company intends to release a Preliminary Feasibility Study for Phase II of this expansion during the fourth quarter of 2013.