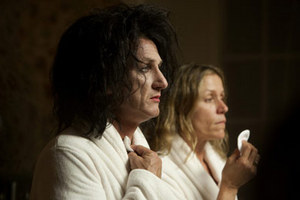 Academy Award winners Sean Penn and Frances McDormand star in the Blu-ray and DVD release of This Must Be The Place. Photo courtesy of Anchor Bay Entertainment and The Weinstein Company.




BEVERLY HILLS, CA -- (Marketwire) -- 03/13/13 -- Anchor Bay Entertainment and The Weinstein Company released today the Blu-ray™ and DVD release of THIS MUST BE THE PLACE, from acclaimed Italian director Paolo Sorrentino (Il Divo). The all-star cast includes two-time Academy Award® winner Sean Penn (Milk), Frances McDormand (Fargo) and Judd Hirsh (A Beautiful Mind). THIS MUST BE THE PLACE is available in stores today for an SRP of $29.99 for the Blu-ray™ and $24.98 for the DVD.

When legendary Goth rocker Cheyenne (two-time Academy Award® winner Sean Penn), long-retired in Dublin with his firefighter wife, Jane (Academy Award® winner Frances McDormand), learns his estranged father is dying, the childlike recluse travels to New York to seek reconciliation -- only to arrive too late. Upon discovering his father's unfulfilled quest for revenge against an ex-Nazi war criminal taking refuge in America, Cheyenne embarks upon his own journey of reawakening in this engaging and unpredictable road adventure from internationally acclaimed director Paolo Sorrentino.

THIS MUST BE THE PLACE received the Prize of the Ecumenical Jury at the 2011 Cannes Film Festival, where it was also nominated for a Palm d'Or Cannes. It made its US debut at the 2012 Sundance Film Festival.

ABOUT THE WEINSTEIN COMPANY
The Weinstein Company (TWC) is a multimedia production and distribution company launched in October 2005 by Bob and Harvey Weinstein, the brothers who founded Miramax Films in 1979. TWC also encompasses Dimension Films, the genre label founded in 1993 by Bob Weinstein, which has released such popular franchises as SCREAM, SPY KIDS and SCARY MOVIE. Together TWC and Dimension Films have released a broad range of mainstream, genre and specialty films that have been commercial and critical successes. TWC releases took home eight 2012 Academy Awards®, the most wins in the studio's history. The tally included Best Picture for Michel Hazanavicius's THE ARTIST and Best Documentary Feature for TJ Martin and Dan Lindsay's UNDEFEATED. THE ARTIST brought TWC its second consecutive Best Picture statuette following the 2011 win for Tom Hooper's THE KING'S SPEECH.