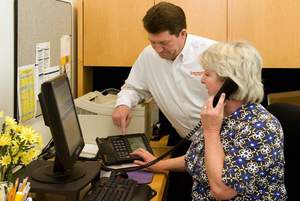 Ben Berg of Authorized Toshiba Dealer Transcom Telecommunications and Mickey Walker of iSpace worked together to deliver a feature-rich solution with the ability to grow.


IRVINE, CA -- (Marketwire) -- 03/12/13 -- Toshiba America Information Systems Inc., Telecommunication Systems Division (Toshiba - www.telecom.toshiba.com) has helped iSpace (www.ispace.com) of El Segundo, Calif. meet its communication goals with a new VIPedge™ cloud-based business telephone solution. iSpace is a global services company focused on information technology and business process solutions, including consulting, outsourcing, software products, staffing and more.

Mickey Walker, administrative director for iSpace, specified iSpace's communication objectives, which include:

•Establishing a voice communication presence with an affordable, feature-rich, cloud-based business telephone solution; •Delivering traditional telephony features not usually found in cloud solutions, including superior audio quality; •Providing headset integration with their existing headsets, allowing advanced headset features not typically available when used with SIP telephones; •Delivering scalability to allow new users, features, and applications as the company grows as well as the flexibility to deploy users virtually anywhere and anytime; •Having an Authorized Toshiba Dealer to install, configure, program and act as (or assist) the IT department to save time and money; and •Delivering a set, monthly cost that was affordable, without the need to maintain equipment on-premises.

Ben Berg, partner at Authorized Toshiba Dealer Transcom Telecommunications (www.TranscomLA.com) of Lakewood, Calif., recommended Toshiba's VIPedge. He said, "VIPedge has all the features and capabilities of a more-expensive on-premises system at an affordable price point." Transcom has been an Authorized Toshiba Dealer since 1986.

Solution: Toshiba's VIPedge Delivers Enterprise-quality Telephony in the Cloud at an Affordable Cost

Installed and serviced by Transcom, iSpace's VIPedge solution consists of:

•VIPedge cloud-based business telephone solution serving 30+ users in two locations: El Segundo and Irvine, Calif.; plus remote virtual users in Boston; and Tampa, Fla.; •Toshiba IP 5000-series desk telephones; •Unified Messaging, enabling users to receive both voice and email messages in their email inboxes; and •Enterprise Manager for simple, browser-based administration and management.