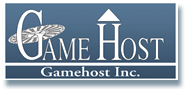 RED DEER, ALBERTA -- (Marketwire) -- 03/12/13 -- Gamehost Inc. (TSX: GH)

Management and Directors of Gamehost Inc. (the "Company") are pleased to present results for the twelve months ended December 31, 2012 (the "Period", or "Year") and three months ended December 31, 2012 (the "Quarter").

Put It In The Win Column

Total operating revenues for the Quarter grew by 4.4% to $19.8 million from $19.0 in the same quarter of 2011. For the Year, revenues were up 6.3% to $76.6 million from $72.0 million in the prior year. These results represent quarterly and annual revenue records for the Company. Earnings before interest, taxes, depreciation and amortization ("EBITDA") that is attributable to owners of the Company ("EBITDA to Owners") grew by $0.5 million or 6.1% to $8.6 million for the Quarter compared to $8.1 million for the same quarter in 2011. EBITDA to Owners for the Year grew by $3.3 million or 10.7% to $33.6 million compared to $30.3 million in 2011. EBITDA to Owners margin percentage was higher by 77 basis points to 45.3% from 44.6% in the Quarter compared to one year earlier. True to form, the final quarter of the year is typically a strong revenue quarter for the Company accompanied by some pressure on margins caused by seasonally high food and beverage sales from corporate banquets. Nevertheless, margins held up well producing an annual EBITDA to Owners margin of 46.3%, a 185 basis point increase from 44.5% a year earlier. All tallied, Q4 2012 was a winning Quarter in a winning Year.

LOL

While other Canadian companies steal the business headlines and euphoria and disappointment wax and wane in the market, we have run the 2012 race like the proverbial turtle. While the S&P/TSX Composite Index gained 4.0% on the Year, the Company shares rose $1.45 or 12.9% and the Company debentures rose 11.3% over the same time frame. Furthermore, over the course of the Year we have quietly reduced loans and borrowings by $6.4 million or 23.7%, increased our cash deposits by $2.0 million or 11.2%, repurchased $2.0 million of Company shares for cancellation at an average price of $11.97 per common share, and spent $1.1 million to maintain or improve our facilities. Most importantly though, we have distributed $22.0 million, an additional $0.6 million or 2.8%, over 2011 to the best people in the world, our investors. So go ahead, laugh out loud!

To Have And To Hold

During the Quarter, $1.8 million face value of debentures were presented for conversion to 0.2 million common shares leaving $31.7 million of the original $55.0 million debenture issue outstanding at the end of the Year. There were no shares repurchased under normal course issuer bid (NCIB) during the Quarter. Since the start of the year an additional 1.5 million shares have been issued net of those cancelled by repurchase under NCIB. The volume of the Company shares traded on the Toronto Stock Exchange during the year increased 10.0% over the volume of the preceding year improving the liquidity of the Company's shares.

New Neighbours

We were excited to learn of Imperial Oil's plans to relocate its Calgary headquarters to a campus-style office complex in the southeast suburban office park known as Quarry Park. While suburban office parks are not a new thing, this marks the first time an industry oil giant has ventured away from Calgary's downtown core. Imperial Oil's new offices will be located a skip and a jump from our Deerfoot Inn & Casino and will eventually house some 3,000 employees. This announcement is bound to accelerate the residential growth in nearby communities. Relocation for Imperial Oil employees will begin in mid 2014 and we look forward to welcoming our new neighbours and their out-of-town meeting guests to our hotel for years to come.