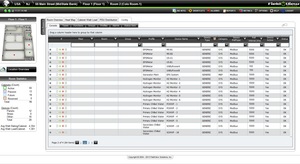 Enhanced Polling and Alarming feature in FieldView 5.2 includes adjustable polling rates per device, offline polling and real-time alarming.



NEW YORK, NY -- (Marketwire) -- 03/12/13 -- DataCenter Dynamics -- FieldView Solutions, a market leader in Data Center Infrastructure Management (DCIM), today unveiled enhancements to its award-winning FieldView platform at the DataCenter Dynamics, New York City. Developed from suggestions by managers operating several of the world's largest data centers, FieldView 5.2 represents the next evolution of DCIM solutions to provide holistic visibility and inclusive reporting features -- viewed from one console -- garnered from globally distributed data center deployments.

"The DCIM market is quickly evolving, as data center managers demand greater insight into the complex environments they manage," said Fred Dirla, Chief Executive Officer, FieldView Solutions. "We are listening to these demands and developing a stronger integration between IT and facility management disciplines to offer a more robust, centralized monitoring, management and intelligent capacity planning."

The total power capacity of data centers using the FieldView DCIM software has surpassed 1.5 Gigawatts. Today's announcement will help the company grow this capacity by offering new features such as:

•Enhanced Polling and Alarming - Includes adjustable polling rates per device or category, as well as offline polling, real-time alarming and SNMP alarming for IT and facilities control systems/Building Management Systems (BMS). •Plug-n-Play Protocols - Enables easy configuration for new vendors and new protocols with the ability for direct monitoring of over 50 different vendor systems and protocols supported in Plug-n-Play mode. •Enhanced Reporting - Includes more robust reporting features including enhanced capacity planning functionalities.

FieldView Solutions continues to experience strong growth, with 63 percent annual revenue growth during a three year period as well as expanding into Central and South America, the United Kingdom, Australia, Asia Pacific, Japan, India, Singapore, and China. In addition, the company's recently signed global customer contracts have FieldView DCIM deployed in six of the top 10 banks, three of the top five technology providers, and 12 of the largest Co-Lo facilities worldwide.

To Demo FieldView 5.2 on March 12th at DataCenter Dynamics in New York City, visit Booth #59 for more details.