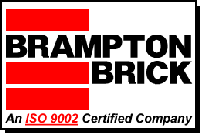 BRAMPTON, ONTARIO -- (Marketwire) -- 03/12/13 -- (All amounts are stated in thousands of Canadian dollars, except per share amounts.)

Brampton Brick Limited (TSX: BBL.A) today reported net income of $1,485, or $0.14 per Class A Subordinate Voting share ("Class A share") and Class B Multiple Voting share ("Class B share"), for the year ended December 31, 2012 compared to a loss of $9,976, or $0.91 per share, in 2011. The aggregate weighted average number of Class A shares and Class B shares outstanding in 2012 was 10,937,717 and 10,936,554 in 2011.

DISCUSSION OF OPERATIONS

Year ended December 31, 2012

For the year ended December 31, 2012, revenues increased by $17,048, or 21%, to $97,061 compared to $80,013 in 2011 due to sales volume increases for both the Masonry Products and Landscape Products business segments.

Cost of sales for the 2012 year amounted to $75,160, compared to $65,566 for 2011. The increase in cost of sales was caused by higher sales volumes and higher yard and delivery expenses as a result of the increase in shipments. Cost of sales for the 2012 year increased by 15% from the prior year, whereas revenues increased by 21%. Due to the relatively high fixed cost nature of the Company's manufacturing facilities, large fluctuations in production levels have a material impact on per unit manufacturing costs and consequently gross margins. As well, the improvement in gross margin was due to a number of specific initiatives undertaken to improve operating efficiencies, including the consolidation of distribution facilities which reduced yard expenses.

Selling expenses for the year ended December 31, 2012 increased by $187, primarily due to an increase in personnel costs and sales commission payments related to the increased revenues, offset in part by a decrease in advertising and marketing expenditures. In 2011, higher advertising and marketing expenditures were incurred to support the introduction of a number of new products and to upgrade the Company's customer support and related service level capabilities.

General and administrative expenses increased by $328, or 5.2%, from the prior year due to an accrual for year-end employee bonuses, and costs incurred to upgrade the Company's information systems.

For the full year, an impairment loss of $1,278 relating to the short-term loan receivable due from Universal Resource Recovery Inc. ("Universal"), the Company's 50/50 joint venture, was recognized. This impairment loss, together with the share of loss from the investment in Universal in the amount of $8,857 recognized in 2011, is discussed below under the caption "Universal Resource Recovery Inc".

Operating income of $6,725 compared to $1,098 in 2011, reflected the improvement in both revenues and contribution margins for the year ended December 31, 2012. This improvement was partially offset by the impairment loss recognized on the loan receivable from Universal.

Finance costs of $3,682 for the year ended December 31, 2012 decreased by $841 from 2011. The decrease in interest expense was attributable to lower debt balances outstanding on the Company's term loans due to principal payments made during the year, and the redemption of all the subordinated secured debentures in the principal amount of $9,000 in the latter half of 2012. As well, the settlement of the interest rate swap contract in the fourth quarter of 2011 resulted in the elimination of the interest rate differential payments.