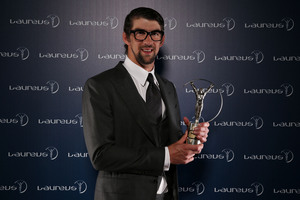 Michael Phelps receives the Laureus Academy Exceptional Achievement Award at the 2013 Laureus World Sports Awards at the Theatro Municipal Do Rio de Janeiro on March 11, 2013 in Rio de Janeiro, Brazil.


RIO DE JANEIRO, BRAZIL -- (Marketwire) -- 03/11/13 --


•Felix Sanchez wins Laureus Comeback Award after gold medal win at 34 •Brazilian Paralympic star Daniel Dias wins second Laureus Disability Award •European Ryder Cup golfers are named Laureus Team of the Year •Record skydive wins Felix Baumgartner Laureus Action Sports Award •Global TV audience watches Laureus Awards Ceremony in Rio de Janeiro •For video content, see www.digitalnewsagency.com/laureus



The winners of the 2013 Laureus World Sports Awards have been unveiled at a globally televised awards ceremony in Rio de Janeiro. Among the highlights were a third Laureus Award for Jamaican sprint giant Usain Bolt, a triple success for British sport with honours for Jessica Ennis, Andy Murray and Sebastian Coe, and a special new award for Michael Phelps, the most successful Olympian of all time.

The Laureus World Sports Awards are the premier honors on the international sporting calendar. The winners are chosen by the Laureus World Sports Academy, the ultimate sports jury, made up of 46 of the greatest living sportsmen and sportswomen. The majority of the winners came from the highly successful 2012 Olympic and Paralympic Games in London.

Usain Bolt was acclaimed Laureus World Sportsman of the Year after his remarkable performance at the Olympics, when he repeated his success in Beijing by winning gold medals in all three sprint events in London -- 100 meters, 200 meters and 4 x 100-meter relay.

The Laureus World Sportswoman of the Year Award went to Jessica Ennis, who carried the hopes of the British nation in London. Despite the enormous pressure of being one of the first on the track, she dominated the heptathlon and won the gold medal with a British record score of 6,955 pts.

British tennis star Andy Murray's first Grand Slam victory, at the U.S. Open, plus an Olympic gold and silver medal in the singles and mixed doubles in London, made him the winner of the Laureus World Breakthrough of the Year Award.

Another outstanding Olympic champion, the Dominican Republic's Felix Sanchez, received the Laureus World Comeback of the Year Award after winning the Olympic 400-meter hurdles gold medal in London, eight years after he won it for the first time in Athens in 2004.

Brazil's Daniel Dias, 24, was once again the outstanding swimmer of the Paralympic Games, winning six individual gold medals in London, all in world record times. It was an achievement that won him the Laureus World Sportsperson of the Year with a Disability Award for the second time.