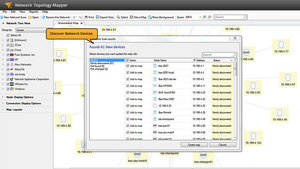 SolarWinds Network Topology Mapper (NTM) discovers all devices for high-accuracy network mapping that can be exported to SolarWinds Network Performance Monitor and Microsoft Visio.



AUSTIN, TX -- (Marketwire) -- 03/11/13 -- SolarWinds (NYSE: SWI), un proveedor líder de software poderoso y económico de gestión de TI, anunció hoy el lanzamiento de SolarWinds Network Topology Mapper (NTM), una solución de inventario, descubrimiento y mapeo de redes que se une a la extensa suite de soluciones de gestión de redes de SolarWinds.

"Hemos encontrado en la aplicación SolarWinds Network Topology Mapper una herramienta muy útil para mapear con precisión la topología de la red en los niveles 2 y 3 - la presentación del mapa y datos variados es increíblemente útil," afirmó John Spanitz, administrador senior de sistemas de Just Born, Inc. "Usar SolarWinds NTM como la base de nuestros mapas de sistema SolarWinds Network Performance Monitor y SolarWinds Server & Application Monitor nos ayuda a suministrar rápidamente la visión general que necesitamos, economizando en forma significativa nuestras horas de trabajo."

SolarWinds NTM permite a los profesionales de TI presentar mapas de la red más precisos y detallados, para una fácil lectura y publicación.

•Genere mapas de la topología de la red dinámicos y detallados: Reúna información de red multi nivel de mapas con iconos de nudos, líneas coloreadas de velocidad de conexión, etiquetas y mucho más, permitiendo mapas fáciles de leer y abarcadores de toda la red o segmentos individuales de la misma. Los detalles de mapa pueden incluir direcciones IP, direcciones MAC, nombres DNS, nombres de nudos y conexiones de puertos de conmutación.

•Descubra todos los dispositivos en la red con hallazgo de red multi protocolo: Elija llamadas selectivas entre ICMP, SNMP v1-v3, WMI, CDP, LLDP, y VMware para crear una lista y diagrama abarcador y detallado de la red. Ajuste la representación para exhibir la red completa, dispositivos específicos o información de nivel 2 y 3, e informes ágiles a través de exportaciones de Microsoft Office Visio.

•Mantenga mapas de conformidad normativa de la red: Genere mapas de red detallados y conexiones con los datos de los miembros, ayudando a satisfacer los requerimientos preventivos y de control de detección mediante la exhibición de los cambios a la topología de la red. Programe barridos para mantener los mapas actualizados, rastrear la actividad de puertos de conmutación, encuentre dispositivos abandonados y resuelva directamente los requisitos de auditoría para una variedad de estándares incluyendo PCI y HIPAA.