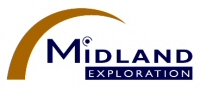 MONTREAL, QUEBEC -- (Marketwire) -- 03/11/13 -- Midland Exploration Inc. ("Midland") (TSX VENTURE: MD), in partnership with Osisko Mining Corporation ("Osisko "), is pleased to report the start of a new drilling campaign to test several first order and favourable targets identified by the recent induced polarisation ("IP") survey on its Casault property. The property covers the Sunday Lake Fault over more than 20 kilometres strike length and is located about 40 kilometres east of the Detour Lake gold deposit, which currently hosts a total of 23.3 million ounces of gold in measured and indicated resources (NI 43-101 compliant) and 5.8 million ounces of gold in inferred resources (NI 43-101 compliant), including 15.6 million ounces of gold in near-surface proven and probable mineral reserves (NI 43-101 compliant) (source: press release by Detour Gold Corporation dated January 25, 2012).

The proposed 2,500 metres drill program has for principal objective to test up to fifteen new IP anomalies that have never been tested. Most of these anomalies are located within the highly favourable Sunday Lake deformation corridor.

Several New Promising Areas Identified by the IP Survey

In February 2013, a 70 kilometres-long IP survey was completed in two areas (East Block and West Block) which covered up to 3 kilometres north of the Sunday Lake fault and located less than 3 kilometres west of the Martiniere gold project owned by Balmoral Resources Ltd ("Balmoral"). The surveys were also situated as a follow-up to the new auriferous structure intersected by drill hole CAS-12-07 which had returned 10.4 g/t Au over 1.45 metres during the 2012 drill program.

On the East block, the IP survey was successful in identifying several new anomalies characterized by combined increases of chargeability and resistivity, often typical of gold-bearing alteration zones. The IP trends show preferential ENE and NW-SE directions which intersect in the middle of a complex kilometre-scale magnetic formation, which is folded, faulted and never drill tested. This new favourable area is located in the western extension of Balmoral's Martiniere West zone where they recently announced that the structure possibly extends over more than 500 metres west, with intersections up-to 6.71 g/t Au over 7.4 metres (source: press release by Balmoral dated March 4th 2013).

On the West block, untested IP trends were identified in the hinge of a regional fold located hundreds of metres north of the Sunday Lake fault where a gold anomalous zone was identified by drill holes CAS-12-20 and 22 in 2012.

Furthermore, three additional IP lines were completed in the immediate area surrounding drill hole CAS-12-07 which had returned 10.4 g/t Au over 1.45 metres hosted by a up-to 14 metres thick structure anomalous in gold. The central line tested directly over DDH CAS-12-07, while the other two were located 250 metres on either side. Results from the survey on these additional lines suggest a strong chargeability anomaly, forming an IP axis with a minimum length of 500 metres and interpreted to be directly associated to the mineralized interval (drill hole CAS-12-07) which remains untested at depth or along strike.