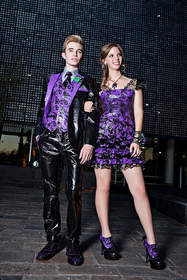 Grand Prize Winners of the 2012 Duck brand Stuck at Prom Scholarship Contest, Lara and Cole of Mesa, Arizona.



AVON, OH -- (Marketwire) -- 03/11/13 -- It's the can't-miss style event of the season for high school students from coast to coast: prom night. And whether they dream of rocking colorful couture in a bold, bright pattern or sporting a sophisticated solid shade, students can show off their individual style in a whole new way when they enter the 13th annual Stuck at Prom® Scholarship Contest.

The contest, which begins March 11, invites high school students across the United States and Canada to create original prom looks using the Duck Tape® palette of hundreds of colors and prints -- and gives them a chance to win a $5,000 college scholarship when they do. From funky frocks to outrageous accessories, the contest awards students for expressing their individual fashion sense and unique style.

And if they're looking for a little style inspiration, this year's entrants can turn to a recent episode of Lifetime's hit series, "Project Runway," which featured a group of up-and-coming fashion designers working in teams of two to design and create one-of-a-kind prom dresses -- each one made primarily out of Duck® brand duct tape.

"With the long history of the Stuck at Prom® Contest and our recent participation in 'Project Runway,' Duck Tape® is really emerging as a cutting-edge material in the world of fashion," said Scott Sommers, director of marketing, DIY Tapes, for ShurTech Brands, LLC, the marketers of Duck Tape®. "We're looking forward to seeing how this year's entrants incorporate our trendy Duck Tape® colors and prints to create personalized prom fashions."

The Stuck at Prom® entry period starts March 11 and ends June 10, 2013. A panel of judges will then choose 10 finalist couples based on workmanship, originality, use of colors, accessories and use of Duck Tape®. Those couples will be narrowed down to grand prize, second and third place winners during a public online voting period on StuckAtProm.com, which will open on June 13, 2013, and end on July 8, 2013, with winners announced on or about July 11, 2013.

The Grand Prize winners, as well as the school that hosted the prom they attended, will each receive a $5,000 scholarship. The second place award is $3,000 for each of the students and for the school that hosted the prom, and both the students in third place and the school that hosted the prom will receive $2,000. The remaining seven couples in the judge-selected Top 10 will each receive a $500 scholarship, as well as $500 for the school that hosted the prom. In addition, a new "Singles Category" and six "Honorable Mention" categories offer even more chances to win.