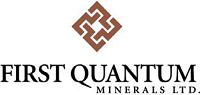 VANCOUVER, BRITISH COLUMBIA -- (Marketwire) -- 03/11/13 -- First Quantum Minerals Ltd. ("First Quantum" or the "Company") (TSX: FM)(LSE: FQM) today announced that after receipt of Investment Canada Act approval on March 8, 2013 for its offer (the "Offer") to acquire all of the outstanding shares of Inmet Mining Corporation ("Inmet", TSX Symbol "IMN") that all regulatory approvals have now been received.

Mr Philip Pascall, CEO and Chairman of First Quantum commented:

"Our Offer is full, fair and attractive. Inmet's largest shareholder, Leucadia National Corporation has already indicated its support for the Offer by tendering their shares. I urge all Inmet shareholders to ensure that this opportunity is not lost through inaction today.

In tendering shares, Inmet shareholders will immediately move toward realizing a significant premium in cash as well as the opportunity to own shares in the premier pure play global copper company with a geographically diverse portfolio of assets, track record of superior returns and exciting growth prospects.

By tendering today, as First Quantum shareholders you will have immediate exposure to the Company's strengths and renowned project capabilities on Cobre Panama, a project at a critical juncture of its development in a challenging environment.

Our vision of the two companies combined is that a major geographically diversified copper company will be created. We have already outlined the superior growth prospects of the combined entity. To achieve this vision, the combination needs to be established soon in order to exploit First Quantum's strengths and capabilities on the Cobre Panama Project.

I urge all other Inmet shareholders to tender their shares today before the Monday, March 11, 2013 deadline so that they can receive, as soon as possible, the Offer consideration to which they are entitled."

Advisors and Information Agent

First Quantum has engaged Jefferies International, Goldman, Sachs & Co., and RBC Capital Markets to act as its financial advisors in connection with the Offer. Fasken Martineau DuMoulin LLP is acting as legal counsel to First Quantum in connection with the Offer.

Georgeson Shareholder Communications Canada, Inc. has been retained as information agent for the Offer. Shareholders may contact Georgeson at:

Toll Free (North America): 1-866-656-4120

Outside North America Call Collect: 1-781-575-2421

Email: [email protected]

About First Quantum

First Quantum is a leading international mining company with a global portfolio of copper and nickel assets located in Africa, Australia, South America and Europe. For the twelve months ended December 31, 2012, First Quantum generated revenue and adjusted EBITDA of US$2,950 million and US$1,143 million respectively and produced 307 kt of copper, 38 kt of nickel and 202 koz of gold. A diverse portfolio of profitable operating assets and quality growth projects makes First Quantum one of the fastest-growing mining companies in the world. First Quantum is listed on the Toronto, London and Lusaka Stock Exchanges, with a market capitalization of approximately US$10 billion.