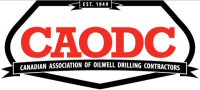 CALGARY, ALBERTA -- (Marketwire) -- 03/11/13 -- The Canadian Association of Oilwell Drilling Contractors (CAODC) announced on Friday election results for the 2013 Board of Directors.

CAODC members - which include all of Canada's drilling contractors and 98% of Canada's service rig contractors - elect representatives to the Board for 2-year terms.

"Several members of the 2013 Board began their careers on a rig," says Mark Scholz, CAODC President and CEO. "This is a dynamic group of industry leaders, and I'm pleased to have their expertise and perspective at the table."

The following representatives from CAODC member companies make up the 2013 Board of Directors:


Executive Directors:Ross Pickering (Chairman) - Precision Drilling Corp.Wade McGowan (Vice Chairman) - Ironhand Drilling Inc.Joe Bruce (Past Chairman) - Nabors CanadaPreston Reum (Chairman, Service Rig Division) - Essential Well ServicePartnership - Central PartnershipKen W. Hudgeon (Past Chairman, Service Rig Division) - Precision WellServicing, a division of Precision LPJason Power (Chairman, Atlantic Division) - Noble Drilling (Canada) Ltd.
Directors:John Brown - Patterson-UTI Drilling Co. CanadaJohn Cooper - Savanna Energy Services Corp.Kirk Grimes - Grimes Well Servicing Ltd.Randy Hawkings - CanElson Drilling Inc.Keith Krausert - Beaver Drilling Ltd.Mike Mannas - Jomax Drilling Ltd.George McHardy - Nabors Drilling, a division of Nabors CanadaDarrell McIntyre - Nabors Production Services, a division of Nabors CanadaDon Pack - Precision Well Servicing, a division of Precision LPBrad Rowbotham - Roll'n Oilfield Industries, Ltd.Karl Ruud - Akita Drilling Ltd.James Schulte - Precision Drilling Corp.Rick Simonton - Ensign - Canadian DrillingBryan Toth - Ensign Energy Services Inc.Lyle Whitmarsh - Trinidad Drilling Ltd.Les Yakemchuk - Treeline Well Services Inc.Bob Zanusso - Ensign - Canadian Drilling
CAODC is the unified voice of the Canadian drilling and service rig industry, promoting safer and more efficient operations through advocacy, communication and needed products and services. CAODC is committed to promoting a culture of safety excellence in the industry, acting in the best interests of its member companies, their employees and the industry as a whole and continuing a strong tradition of leadership and cooperation.


Contacts:
Canadian Association of Oilwell Drilling Contractors
Cindy Soderstrom
Manager, Communications
(403) 264-4311 or Cell: (403) 816-1542
csoderstrom@caodc.ca