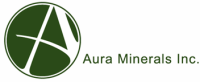 TORONTO, ONTARIO -- (Marketwire) -- 03/11/13 -- Aura Minerals Inc. ("Aura Minerals" or the "Company") (TSX: ORA) announces that the Company will release its fourth quarter and full year 2012 financial and operational results after the close of business on March 20, 2013. A conference call and audio webcast will follow on March 21, 2013 at 9:00 a.m. (EST) for management to discuss the results. This discussion will be followed by a question-and-answer period with investors.


Live Dial-In InformationToronto and International: 416.340.8530North America (Toll Free): 888.340.9642Participant Audio Webcast: www.auraminerals.comReplay Call InformationToronto and International: 905.694.9451 Passcode: 6892960#North America (Toll Free): 800.408.3053 Passcode: 6892960#
The conference call replay will be available from 2:00 p.m. on March 21, 2013 until 11:59 p.m. on April 4, 2013.
About Aura Minerals Inc.
Aura Minerals is a Canadian mid-tier gold and copper production company focused on the development and operation of gold and base metal projects in the Americas. The Company's producing assets include the San Andres gold mine in Honduras, the Sao Francisco and Sao Vicente gold mines in Brazil and the copper-gold-silver Aranzazu mine in Mexico. The Company's core development asset is the copper-gold-iron Serrote project in Brazil. Activities to date on the Serrote project include detailed negotiations for debt and equity financing, a geotechnical drill program, the engineering has been awarded and the Company has commenced advancing with early procurement.
For further information, please visit Aura Minerals' web site at
www.auraminerals.com
.


Contacts:
Aura Minerals Inc.
Alex Penha
Vice President, Corporate Development
(416) 509-0583 or (416) 649-1033
(416) 649-1044 (FAX)
info@auraminerals.com
www.auraminerals.com