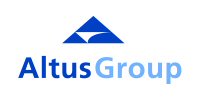 TORONTO, ONTARIO -- (Marketwire) -- 03/11/13 -- Altus Group Limited ("Altus") (TSX: AIF) today announced its annual and fourth quarter financial results for the year ended December 31, 2012.

2012 Financial Performance Highlights:


--  Delivered healthy year-over-year adjusted EBITDA growth of 30.5%;--  Positive year-over-year revenue increase of 7.1%;--  Adjusted earnings per share of $0.95 for the year, compared to $0.59 in    2011; and,--  Dividends of $0.60 per common share declared for the year.
Full Year Operational Highlights:
--  Appointment of Chief Executive Officer, Robert Courteau; an accomplished    business leader with valuable experience with a number of well-    respected, international technology companies;--  Launched ARGUS Enterprise 9 - a more robust asset management solution in    a single, integrated platform, subsequent to which customer reception    has been extremely positive;--  Improved balance sheet flexibility through amendments to our bank credit    facilities with respect to repayments and bank covenant provisions;--  Settled the US$49.4 million US convertible debenture for a gain of $6.3    million and successfully issued $48.0 million convertible unsecured    subordinated debentures;--  Completed the sale of Altus Capital Planning for approximately $7.3    million, and realized a gain on sale of $0.4 million; and,--  Subsequent to year end, consolidated its investment in Real Matters,    thereby increasing the equity interest to 25.7% from 19.0% and    simplifying the investment for future strategic considerations.
"Altus took targeted actions to strengthen the fundamentals of the business in 2012 and closed the year with strong results and a solid foundation for success," said Robert Courteau, Chief Executive Officer, Altus Group. "We connect this industry like no one else - with leading expertise and best-in-class tools Altus is uniquely positioned to support our global clients. Further integration of our
technology
assets will enhance client relationships, increase market penetration and expand our scope of business."
Full Year 2012 Financial Performance
For the year ended December 31, 2012, revenue was $322.6 million, compared to $301.2 million in 2011, representing an increase of 7.1%. Revenue gains were the result of higher revenues in Geomatics, RVA, Cost and the UK as well as the acquisition of ARGUS Software in 2011, offset by office closures of Cost operations in Asia and the sale of Altus Capital Planning during the year.
For the year, adjusted EBITDA was $51.1 million, up 30.5% from $39.2 million in 2011. Adjusted earnings per share was $0.95, compared to $0.59 in 2011, a 61.0% increase. The improved performance was due to both higher revenues and improved operating efficiencies in Asia Pacific Cost and corporate activities.
Loss (as reported under IFRS) was $12.7 million, or $0.55 per share, basic and $0.76 per share, diluted, compared to a loss of $18.3 million, or $0.80 per share, basic and diluted, in 2011.
Altus recorded a non-cash impairment charge of $22.5 million, or $0.98 per share, against the carrying value of ARGUS Software, goodwill and intangibles. While management believes this charge is justified at this time, it remains confident about the future prospects of ARGUS both independently and as part of the Altus enterprise.