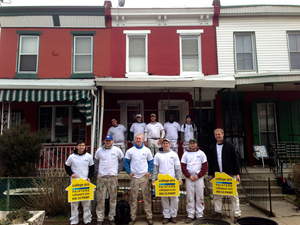 WOBURN, MA -- (Marketwire) -- 03/11/13 -- Cabo San Lucas, Cancun, South Beach, and Las Vegas. What do all of these places have in common? These locations are some of the most popular destinations for students to escape during the week-long event known as spring break... but these locations aren't for everyone. This year, an extremely charitable group of college students will spend over 1,500 hours volunteering for two events that will make up the seventh annual Alternative Spring Break program; a yearly charitable event hosted by the largest student-run painting company in North America, College Pro Painters.

This year, College Pro Painters will be partnering with two separate organizations; Uspiritus and Rebuilding Together Philadelphia, located in Louisville, KY, and Philadelphia, PA, respectively. College Pro takes pride in collaborating with organizations that wish to improve their surrounding community as much as the student-run painting company does, and this year is no exception.

Uspiritus is the latest triumph of two companies that combined their 160 total years of child care experience under one roof. Brooklawn Child & Family Services and Bellewood Home for Children joined forces to create one single entity, Uspiritus; Kentucky's largest and most comprehensive care agency for at-risk and foster children and their families. Uspiritus will benefit from the seventh annual Alternative Spring Break by receiving over 600 volunteer hours and over $25,000 in services, equipment, and materials to repaint and rejuvenate seven separate family cottages.

Rebuilding Together Philadelphia is a local independent affiliate of a national network that focuses on using volunteer resources to preserve affordable homeownership in the West Philadelphia, Germantown, and North Philadelphia areas of the city. The organization will reinvigorate 12 homes and receive $48,000 worth of materials, services, and equipment; not to mention over 960 hours from College Pro Painters over a three-week period.