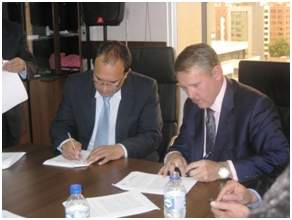 Charles Miller and Guillermo Herrera signing contract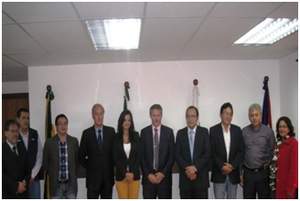 BluForest and MNE representatives post signing


QUITO, ECUADOR -- (Marketwire) -- 03/01/13 -- BluForest Inc. (OTCBB: BLUF) (OTCQB: BLUF)

On February 28, 2013, Charles Miller, CEO of BluForest Inc and Guillermo Herrera, President of the REDD+ Common Wealth of Northern Ecuador ("MNE"), in the presence of the former Minister of Environment and current National Congresswoman Abogada Marcela Aquinaga Vallejo, signed a contract to develop the REDD+ project - Phase 1, corresponding to the province of Sucumbios, with an initial 1,500,000 hectares, corresponding approximately 17 million Verified Carbon Standards, ("VCS").

The MNE and BluForest aim to develop the REDD + MNE project under the appointing of the United Nations Climate Change Convention Frame.

This is the first REDD+ Project in Ecuador, that goes alongside with another Ecuadorian and worldwide unique project, the Yasuni ITT initiative, to maintain non exploited oil reserves of the area in which lies the Yasuni National Park and their areas of influence; This project has raised more than US $ 300 million for works and activities that avoid deforestation and the corresponding emissions in case the oil were exploited and commercialized.

The REDD + MNE project is being developed in the framework of an inter-institutional cooperation action between the MNE and the Ecuadorian Ministry of Environment, who is also conducting methodological and technical advice in the process. This process is expected to achieve the highest quality of technical social and biodiversity certifications, using VCS and Climate Community and Biodiversity standards, CCBA.

BluForest Inc. is a company that has demonstrated its social and environmental responsibility regarding climate change and its support of local communities and Indigenous people. BluForest has demonstrated this dedication through commitment of funds for the project, and expressed in the pre-purchase contract of certificates a period of five years in the voluntary market.

The first resources to be supplied will be directed to carrying out technical studies and preparation of project documents for the REDD+ project in the first stage, and will also finance some community activities and local governance that will support reduce deforestation and forest degradation in the project area. These activities certainly will support as well the verification and validation phase of the project documents.

It is remarkable the methodology of social and inter-agency coordination that has been developed for this project, which has been driven by the interests of the public sector, the private sector and the indigenous communities; actors who have channeled their decisions, in a convergent manner in benefit of the project.