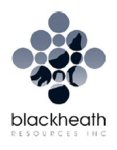 VANCOUVER, BRITISH COLUMBIA -- (Marketwire) -- 03/01/13 -- Blackheath Resources Inc. (TSX VENTURE: BHR)(FRANKFURT: 04B) is pleased to report further drilling results from the Covas Tungsten Project in northern Portugal. The Phase 1 drilling program is designed to confirm and test known skarn-related mineral zones and extensions as well as new targets at Covas. Initial results are available from drilling at the Lapa Grande and Castelo zones as well as additional holes at Telheira. (See plan of project area: http://media3.marketwire.com/docs/b228a.pdf)

Results from drilling to date include:


--  1.56% WO3 over 11.40 metres at Lapa Grande including--  2.89% WO3 over 5.10 metres in Hole CO 13-12--  0.79% WO3 over 1.55 metres at Telheira in Hole CO 10-12--  2.11% WO3 over 7.98 metres at Telheira including--   4.24% WO3 over 2.55 metres in previously reported Hole CO 7-12--  Expanded mineralization at Castelo target
The initial diamond drilling program has been completed. Fifteen holes were drilled in five target areas around the Skarn Ring and within the central Covas Dome area for a total of 1,606 metres. Results from thirteen of the holes are available and best results came from the Telheira and Lapa Grande target areas, where historic drilling had previously demonstrated the potential for high grade tungsten mineralization. In addition, step-out drilling at the Castelo target area showed potential for tungsten mineralization southeast of previously documented mineralized areas. Results of the remaining two holes drilled at Lapa Grande will be released when available. All holes are vertical drill holes and intercepts are considered to represent the true thickness or close to the true thickness of the mostly flat-lying mineralized zones.
"We are very pleased with these results from our first drilling programme at the Covas Tungsten Project," said James Robertson, President & CEO of Blackheath Resources. "We have confirmed that there are zones of high grade tungsten mineralization as well as strong potential for expansion and we look forward to planning our next campaign at Covas."
Lapa Grande
Five holes were drilled at the Lapa Grande target area. Hole CO 13-12 intercepted 11.40 metres of 1.56% WO3, including 5.10 metres of 2.89% WO3. Hole CO 14-12 intercepted 2.80 metres of 0.77% WO3. Results for the first three holes are summarized below, while results for the final two holes are still in process. Drilling at Lapa Grande validated the historic work, with high grade results, and demonstrated the potential for expansion of the size of the mineralized zone. The Lapa Grande target area is larger than the Telheira zone, as presently known, and historically has not been well-explored. The potential for further mineralization lies to the northwest, southwest, and south. (See drill hole location map for Lapa Grande)
---------------------------------------------------------------------------Target area    Hole ID                         Intercept---------------------------------------------------------------------------                                                          Total                                                Top   thickness                                                (m)         (m)       % WO3---------------------------------------------------------------------------Lapa Grande    CO 12-12                       30.25        3.00        0.24---------------------------------------------------------------------------                              including       30.25        2.00        0.32---------------------------------------------------------------------------Lapa Grande    CO 13-12                       52.70       11.40        1.56---------------------------------------------------------------------------                              including       52.70        5.10        2.89---------------------------------------------------------------------------Lapa Grande    CO 14-12                       16.00        2.80        0.77---------------------------------------------------------------------------Lapa Grande    CO 20-13                  analyses in progress---------------------------------------------------------------------------Lapa Grande    CO 21-13                  analyses in progress---------------------------------------------------------------------------