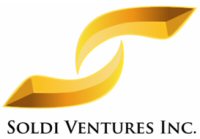 VANCOUVER, BRITISH COLUMBIA -- (Marketwire) -- 02/08/13 -- Soldi Ventures Inc. (TSX VENTURE: SOV) (Soldi) announces that it has staked an additional 120.4 hectare property (known as the "Royal" property) within Galaxy Graphite Corp.'s ("Galaxy") Buckingham Project located in Quebec (map available here: http://www.soldiventuresinc.com/wp-content/uploads/2013/02/Royal-Staking.pdf).

Galaxy recently announced its assay results from its fall 2012 mapping and sampling program on the Buckingham graphite project in Quebec. One sample taken from the property analyzed for size distribution contains 11.5% graphitic carbon, with 54.42% of the large flakes in excess of 80 mesh.

The Buckingham graphite property comprises of two former producing mines, located just east of Buckingham, Quebec. The mines are located in the highly prospective Central Metasedimentary belt of the Grenville geological province, host to many active graphite projects. The host rocks for both deposits are graphitic crystalline marbles, similar to the host stratigraphy at Timcal's Lac des Iles graphite mine, currently Canada's only producing graphite mine. The two properties cover a total of 1,324 hectares on 22 mining claims.

The Ste-Marie deposit had small-scale production in 1865, with a total reported production of 50 tons of graphite. The mineralization is hosted in lenticular masses and mineralized veins, within a crystalline limestone marble. The mineralization results from carbonization of organic matter in calcareous sedimentary formations during the Grenvillian metamorphic event. The graphite mineralization is typically massive.

The Dominion mine produced a reported 916 tons of graphite between 1910 and 1919. The geological setting is very similar to the Ste-Marie deposit. Flake graphite is reported to be the common form of graphite in the deposit (see Galaxy's news release dated February 7, 2012 for more details).

Soldi's new Royal property within Galaxy's Buckingham project is approximately 20 kilometres west of Soldi's Lochaber Graphite Property and 95 kilometres south of Soldi's Cameron Graphite Property (map available here: http://www.soldiventuresinc.com/wp-content/uploads/2013/02/soldi-map-posterFeb.pdf).

The Lochaber Graphite Property covers 930.77 hectares and was acquired February 2012. The Lochaber Property had been the target of exploration in the early 1950's and again in the 1980's during which time an airborne survey (in report DP 83-05) was flown to further define targets. A strong, wide airborne conductor was discovered and a ground visit to the location revealed massive flake graphite. The property is located approximately 50 kilometers east of Ottawa-Gatineau, near a highway in a historic graphite mining district.

In a 1952 report it was reported that: "Trenches were bulldozed by Frobisher Exploration, stripping overburden of 3-18 inches perpendicular to the strike of the Graphite zone. 10 trenches were stripped every 50 feet for 550 feet of the zone. The graphite exposed ranged from 3 feet to over 10 feet in the last 150 feet of the zone. The graphite zone trends along a steep valley that has a strike of N85E." The author visually estimated grades of 10% to 15% graphite. A pit 1,500 feet west of this zone exposed graphite bearing rock. A government airborne electromagnetic-magnetic survey detected conductors on three lines, showing parallel zones to the one which was trenched.