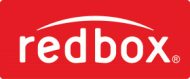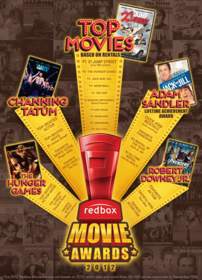 OAKBROOK TERRACE, IL -- (Marketwire) -- 02/08/13 -- As Hollywood awaits the culmination of awards season, Redbox has announced the winners of the 2012 Redbox® Movie Awards, its second-annual celebration of the year's top-rented movies and favorite movie moments. Redbox revealed its full list of film honors with three animated award videos hosted at redbox.com/MovieAwards.

Movie lovers brought home more than 700 million Redbox rentals in 2012, and their selections paint a unique picture of what entertains America. The third and final Redbox Movie Awards video debuted today and announced the 10 most-rented movies of 2012.

While record-grossing action films proved popular at the kiosk last year, the throwback comedy 21 Jump Street claimed the honor of the most-rented Redbox movie of 2012 with more than 9 million rentals.

Award winners across various genres were unveiled over the past week and include:

•Most-Rented Action Movie: The Hunger Games •Most-Rented Comedy: 21 Jump Street •Most-Rented Drama: Moneyball •Most-Rented Horror Movie: The Woman in Black •Most-Rented Family Movie: Puss in Boots

The Redbox Movie Awards also honored Adam Sandler with a Lifetime Achievement Award and a coveted Ruby statuette. Sandler has made America laugh in movies like Jack and Jill, Just Go With It and Grown Ups, making him one of the all-time most-rented actors at Redbox, with more than 40 million rentals.