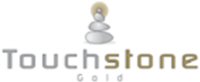 TORONTO, ONTARIO -- (Marketwire) -- 02/07/13 -- Touchstone Gold Limited (TSX: TCH)(AIM: TGL) ("Touchstone Gold" or the "Company") is pleased to provide a review of the Company's activities up to December 31, 2012 and provide an update on its upcoming exploration plans for its Segovia Gold Project in Colombia.

Highlights:


--  Listing on the Toronto Stock Exchange--  Completion of C$5.5 million financing--  Acquisitions of El Cinco property and business combination with Atlantis    Gold Mines Corp, resulting in a 24,699-hectare concession land package    in the highly prospective Segovia gold belt--  Successful Stage 3 drilling programme    --  doubled the area of known gold mineralization    --  discovered multiple additional high-grade gold areas within the Rio        Pescado zone--  Stage 4 drilling programme to commence Q1 2013    --  focus on expanding the areas of known gold mineralization and        testing advanced targets    --  maiden NI 43-101 resource estimate on the Rio Pescado zone expected        following drilling programme
David Wiley, Touchstone Gold CEO, commented, "We are very pleased to look back on a successful and productive 2012, which brought us closer to our aim to grow Touchstone into a significant gold exploration and production group. From an exploration perspective, we released some very positive high-grade drill results which effectively doubled the known area of mineralisation at our project and on the corporate side we grew the scale of our assets substantially through two key acquisitions. We also undertook an initiative to improve the visibility of the company and liquidity for our shareholders through a dual listing on the TSX. With a successful financing in December, we are well funded to begin our Stage 4 drilling programme in the first quarter of this year and we look forward to more success in 2013."
Listing on the TSX
On December 12, 2012, Touchstone Gold commenced trading on the Toronto Stock Exchange under the symbol "TCH". The Company retains its listing on the AIM market of the London Stock Exchange under the symbol "TGL".
Financing
On December 6, 2012, the Company announced the closing of its C$5.5 million financing, through the issue of 34,427,500 units (the "Units") at a price of 10 pence (or C$0.16), each Unit consisting of one common share and one-half of one common share purchase warrant. Each whole common share purchase warrant entitles the holder thereof to acquire on common share of Touchstone Gold at an exercise price of 15 pence per share until December 6, 2014.
Acquisitions
Following the acquisition of the El Cinco property, completed on November 5, 2012, and a business combination with Atlantis Gold Mines Corp. completed on September 11, 2012, Touchstone currently holds a 24,699-hectare concession land package (Figure 1). The asset consists of the advanced Rio Pescado property and the highly prospective San Miguel, Frontino Norte and El Cinco properties, collectively called Touchstone's "Segovia Gold Project" and hosts high-grade near-surface gold mineralization along an 800-metre strike length and multiple high-grade gold target zones (the "Project"). The Project boasts more than 15 km of prospective strike length in gold mineralization and encouraging drill results with significant high-grade intersections (Table 1).