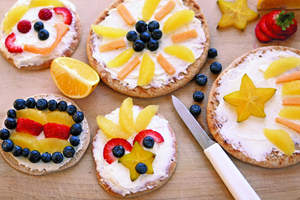 Single Serve Fruity Pizza


MISSION, KS -- (Marketwire) -- 02/07/13 -- (Family Features) Citrus fruits are popular as snacks or sidekicks in the lunch box, but they can bring a whole lot more to the family table.

With their sweet-tangy taste, juicy goodness and sunny colors, grapefruit, oranges and tangerines from Florida can be enjoyed in all kinds of dishes. Whether you use grapefruit juice in a milkshake, orange zest in baked goods, or tangerine slices in a stir-fry, there are plenty of ways to serve up some sunshine.

"Try cooking muffins in grapefruit rinds that have been halved and hollowed out," suggested Justin Timineri, Executive Chef and Culinary Ambassador, Florida Department of Agriculture and Consumer Services. "Or lightly grate the outer peel of citrus and use it when you're cooking -- the natural oils in the peel really enhance a dish."

These recipes show you just some of the ways you can use delicious and healthy Florida citrus in your kitchen. For more recipes and ideas, visit http://bit.ly/floridacitrus.



Single Serve Fruity PizzaYield: 1 servingKids Can: This is fun for kids of all ages to make. Older kids can help slice, with supervision.2     tablespoons light cream cheese1     teaspoon vanilla extract1     9-inch whole-wheat pita bread1     Florida orange, peeled and sectioned1/4   cup Florida strawberries, sliced1/4   cup Florida cantaloupe, sliced1/4   cup Florida blueberries
Combine cream cheese and vanilla extract in a mixing bowl until well blended. Spread over pitas. Decorate with fruit by creating fun faces and patterns.
Citrus Dream MilkshakeYield: 4 servingsKids Can: Younger kids can pour and push the blender button. Older kids can make this by themselves.1/2   cup Florida orange juice1/2   cup Florida grapefruit juice1/2   cup low-fat milk1     tablespoon sugar2     drops vanilla extract4     cups ice
Pour orange juice, grapefruit juice, milk, sugar and vanilla extract into a blender with ice. Blend until smooth. Pour into a glass, add a straw and serve. Garnish with sliced fruit.
Citrus and Honey Butter PancakesYield: 4 to 6 servingsKids Can: Younger kids can measure, pour and mix. Older kids can cook the pancakes, with supervision.3/4   cup Florida orange juice1/2   cup honey, divided1     lemon, zested1     egg3/4   cup whole-wheat flour1/4   cup yellow cornmeal, finely ground2 1/2 teaspoons baking powder      Pinch of sea salt2     tablespoons unsalted butter, softened      Vegetable oil for cooking
Preheat a large sauté pan or griddle over medium-low heat.
In medium-sized mixing bowl, combine orange juice, 1/4 cup honey, lemon zest and egg. Use a whisk to make sure ingredients are mixed well.
In separate mixing bowl, combine dry ingredients (flour, cornmeal, baking powder and salt). Add the dry ingredients to the wet ingredients using whisk to make sure mixture is combined.