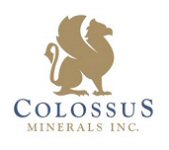 TORONTO, ONTARIO -- (Marketwire) -- 02/07/13 -- Colossus Minerals Inc. (the "Company" or "Colossus") (TSX: CSI)(OTCQX: COLUF) is pleased to provide a development update for its 75% owned Serra Pelada gold-platinum-palladium Mine. The Serra Pelada Mine is a joint venture between Colossus and Cooperativa de Mineracao dos Garimpeiros de Serra Pelada ("COOMIGASP") located in the State of Para, Brazil.

Highlights


--  The Company remains on track to start initial production early in the    second half of 2013 at an initial rate of 250 tonnes per day ("tpd") and    continue the ramp up phase throughout the remainder of 2013 to 500 tpd.    The current plan envisages two active mining faces for 250 tpd of    production, three to five mining faces for 500 tpd of production and six    to nine mining faces for 1,000 tpd of production. The Company expects to    achieve 1,000 tpd of production by the end of the first quarter of 2014.--  Underground development is progressing well with a number of    infrastructure projects necessary to support full-scale mining now    complete or well underway. Development at the face continues through the    mineralized zone.--  The rock quality during collection of the bulk sample remains within    expected parameters from geotechnical work completed prior to first    access to the mineralized zone. The Company continues with systematic    and cautious development as this is the first time accessing the    mineralized zone and it is providing valuable geotechnical information    ahead of initial production.--  Dewatering is progressing well from both surface and underground while    dewatering of the historic pit to within five metres of the solids level    is 95% complete. Underground water inflow rates remain within    expectations.--  Process plant construction remains on schedule for commissioning to    begin early in the second half of 2013; the total project is currently    60% complete. More than 95% of engineering & procurement is complete,    55% of concrete has been poured and structural steel erection will    commence by the middle of February.--  Other critical infrastructure construction also remains on schedule. The    power line and power house are on track to be commissioned early in the    second quarter of 2013 while the tailings dam is expected to be ready in    conjunction with mill commissioning.
Claudio Mancuso, Chief Executive Officer commented, "We are now within six months of commencing our commissioning phase. Both underground development and infrastructure construction are progressing well towards our initial production target of early in the second half of 2013. Going forward, the Company will provide development updates monthly so that construction and development progress can be tracked as we strive towards our most important milestone; production at Serra Pelada."
David Anthony, President & Chief Operating Officer further commented, "Mobilization of the site construction team is now advanced. All principle materials and resources are in place to enable completion of the process plant and infrastructure projects as scheduled. Our mining team is pleased to have started collection of the bulk sample. Planning and preparations have been made to start mining operations during the third quarter of this year."