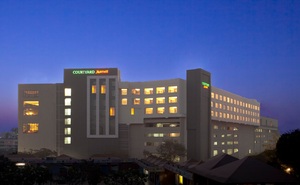 The stylish and contemporary Courtyard by Marriott, Bhopal is now prepared to welcome guests in its latest home, Bhopal city.



BHOPAL, INDIA -- (Marketwire) -- 02/06/13 -- Courtyard by Marriott, a premium business hotel from Marriott International Inc, makes its entry into Bhopal. This symbolic brand new hotel in Bhopal launch signifies the entry of the famous Courtyard by Marriott brand in the city while being the seventh property in India (the brand is already present in Mumbai, Chennai, Pune, Ahmedabad, Hyderabad, Gurgaon and Kochi). The stylish and contemporary Courtyard by Marriott, Bhopal is now prepared to welcome guests in its latest home, Bhopal city.

Strategically located in the heart of the country, the Courtyard by Marriott, Bhopal 4 star hotel offers its guests 101 spacious rooms with contemporary décor including 20 Twin Rooms, 75 King Rooms, 3 Studio Suites, 2 Courtyard Suites, 1 Specially Abled Room, matched with warm and personalized service, unique dining options and best-in-class amenities.

Mr. Rajeev Menon, Area Vice President of the Indian Subcontinent, Maldives and Australia for Marriott International, said, "Madhya Pradesh was carefully chosen for the launch of the new Courtyard by Marriott property as it is one of the most promising, upcoming destinations of India, and Bhopal is going to be the key player amongst the Tier II markets in India. Having witnessed the success our previous 8 launches are experiencing, we foresee the brand doing extremely well in the Bhopal market. With this launch, Marriott International reinforces its commitment of bringing the best brands within its portfolio to the Indian markets."

Courtyard by Marriott, Bhopal is a great place for a quick and refreshing stop-over for guests. With its warm and excellent services, varied dining options and amenities, the business hotel is poised to become a one-stop destination for any and every guest. It is also the ideal venue for all kinds of business meetings and trainings, as the hotel offers state-of-the-art meeting facilities with a perfect backdrop to host world class corporate events.

Speaking on the occasion of the launch, Mr. Elton Hurtis, General Manager of Courtyard by Marriott, Bhopal, said, "It gives us great pleasure to be present in this vibrant and constantly evolving city of Bhopal. We've taken great care in designing this hotel to provide services and facilities for business travelers who want all the conveniences of an upscale hotel, but with a casual, open design where they can be at ease. We bring to you the world renowned Marriott Hospitality and look forward to welcoming you."