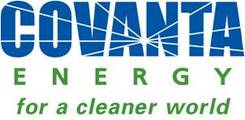 MORRISTOWN, NJ -- (Marketwire) -- 02/06/13 -- Covanta Holding Corporation (NYSE: CVA) ("Covanta" or the "Company"), a leading global owner and operator of Energy-from-Waste ("EfW") projects, reported financial results today for the three and twelve months ended December 31, 2012.



                                                    Full Year                                     ---------------------------------------                                                                   2012Continuing Operations                    2011        2012      Guidance(1)                                     ----------- ----------- ---------------                                      (Unaudited, $ in millions, except per                                                  share amounts)Revenue                              $     1,650 $     1,644             N/AIncome from Continuing Operations    $        84 $       118             N/AAdjusted EBITDA                      $       494 $       492 $   490 - $ 500Free Cash Flow                       $       282 $       262 $   250 - $ 265Adjusted EPS                         $      0.54 $      0.52 $ 0.50 - $ 0.55
(1) As of November 7, 2012.
Key Full Year 2012 Highlights:
•Record year in terms of EfW Boiler availability; •Signed $2.5 billion of waste and energy contracts with average term of 12 years -- secured two million tons of waste and 750,000 MWh of generation per year; •Acquired ~2,700 ton per day Delaware Valley EfW facility; immediately accretive to key metrics; •Successfully re
finance
d $1.9 billion in debt, creating substantial financial flexibility; •Honolulu EfW project expansion successfully commenced commercial operation; and •Doubled dividend to $0.60/share annually; shareholder returns totaled $169 million.
Commenting on Covanta's 2012 results, Anthony Orlando, Covanta's President and CEO stated, "I'm pleased with both our 2012 operating performance and the execution of organic growth initiatives. This good work enabled us to offset the drop in energy and metals markets, as well as the impact of Hurricane Sandy. We also had a great year extending long-term waste and energy contracts. Our contracted revenue base, combined with our continued investment in organic growth initiatives, positions us to grow in the coming year. Our guidance calls for 5% Adjusted EBITDA growth in 2013, and maintaining our strong Free Cash Flow. Our focus is on investing in the business for the long-term, and we see a number of exciting opportunities that will allow us to grow this year and beyond."
Full Year 2012 Results

For the twelve months ended December 31, 2012, total operating revenues declined slightly to $1,644 million from $1,650 million in 2011. This was primarily due to the negative impacts of:
•Lower revenues earned explicitly to service project debt; •Lower pricing for energy at EfW facilities and recycled metals; and •Hurricane Sandy impact, as certain facilities were briefly forced off-line.