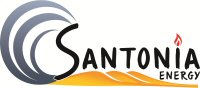 CALGARY, ALBERTA -- (Marketwire) -- 02/05/13 -- Santonia Energy Inc. (TSX: STE) ("Santonia" or the "Company") provides the following update.

Production

The Company achieved its published exit production target of 5,000 boe/d in November with the month of November's production averaging in excess of 5,000 boe/d. The increase in production from the October 1, 2012 level of 4,500 boe/d, post the closing of asset sales associated with the Strategic Review Process, is a result of additional volumes from the Company's Cardium resource development brought on production in early November. Based on field estimates, fourth quarter volumes were 4,920 boe/d (30% oil and NGL's) compared to the Company's original guidance of 4,750 boe/d (25% oil and NGL's).

Santonia has also focused on increasing its liquids production. Based on fourth quarter 2012 field estimates, liquids production was 1,460 bbls/d, an increase of 20% from its liquids level on October 1, 2012. Fourth quarter liquids volumes were comprised of 983 bbls/d of condensate and light oil and 477 bbls/d of natural gas liquids.

Current production is between 4,500 and 4,600 boe/d. Production volumes have tracked forecasted declines from November of 2012 (the last date of new well production additions) and current production includes approximately 200 boe/d of temporary restrictions at the Company's Wild River and Clive properties.

Operations

During the fourth quarter of 2012 Santonia drilled a horizontal Cardium well (33% WI) at North Harlech located at 1-6-46-17W5. The well has a 1,200 metre horizontal section in the Cardium and completion operations are underway. The well has a planned tie-in distance of approximately eight miles and will likely commence production in the third quarter of 2013.

The Company also recently finished the drilling of a multi-zone vertical well at Harlech. The well is being completed in four zones and is expected to be on production in late February. Recent results from these multi-zone vertical wells have been impressive with 30 day initial rates of 300 boe/d (including 150 bbls/d of condensate) resulting in netbacks of $30/boe, on-stream costs of $11,000 per boe/d and rates of return of approximately 45%.

Financial

Santonia recently announced a revised credit facility of $80 million. Year end 2012 net debt is estimated to be $16 million ($2 million lower than previous guidance of $18 million) and the Company anticipates that it will spend approximately $15 million of capital in the first half of 2013.

Based on field estimates the Company had fourth quarter operating costs of $9.12 per boe and a field netback in excess of $24 per boe.

The Company anticipates releasing its full year results, including reserves, on Monday March 4, 2013.

Mr. Steven VanSickle, President and CEO of Santonia, will be presenting at the National Bank Intermediate Energy and Growth and Yield Conference on February 14th, 2013 at the Ritz-Carlton in Toronto, Ontario. In conjunction with the energy conference a new corporate presentation is available on Santonia's website.

Santonia is a crude oil and natural gas exploration, development and production company headquartered in Calgary, Alberta, Canada. Santonia's common shares trade on the Toronto Stock Exchange under the symbol "STE".