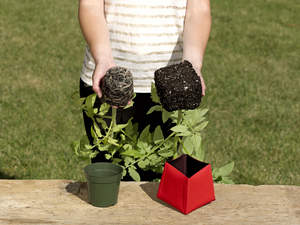 More tomato harvest when it's time to transplant your seedlings, the peel-away sides make it easy to remove plants without disturbing roots, minimizing transplant shock. Shown here are the larger size plant grown with the Peel Away(TM) Pots. The Pots are washable, reusable and store flat.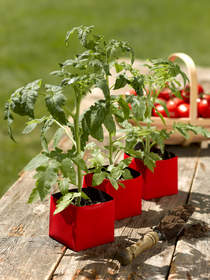 Growing tomatoes from seed with the Peel Away(TM) Pots helps eliminate transplant shock meaning more tomato harvest. The reusable pots are made from VELCRO(R) brand fabric that creates healthy, dense root systems, and the peel-open sides minimize transplant shock. That means an earlier and bigger harvest.



BURLINGTON, VT -- (Marketwire) -- 02/05/13 -- New Gardener's Supply Peel Away™ Pots, help create more tomato harvest, and are made from washable, reusable fabric that promotes healthy root growth. At planting or repotting time, the sides of each pot peel open, minimizing root disturbance and preventing planting shock leading to an earlier, bigger harvest.

"These VELCRO® Brand seedling pots performed so well in our raised bed test gardens. The best tomato harvest started in Peel Away™ Pots as they bore more fruit and had thicker stems than those started in traditional, plastic pots," said Sally Cusack, merchant for Gardener's Supply. "We're very excited for our customers to experience this same success."

"Velcro Industries is continuously seeking opportunities to expand and deliver innovative solutions to new markets," said Jurjen Jacobs, Vice President of Global Marketing, Velcro Industries. "While Velcro Industries currently has a presence in outdoor and DIY products, we knew there was an opportunity to better serve and fulfill the evolving needs of the gardening community. We tapped Gardener's Supply for their deeply rooted gardening expertise and are proud to have created a product that we believe will become quintessential to gardening for amateurs, professionals and every gardener in between."