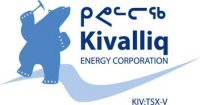 VANCOUVER, BRITISH COLUMBIA -- (Marketwire) -- 02/05/13 -- Kivalliq Energy Corporation (TSX VENTURE: KIV) (the "Company" or "Kivalliq") today announced a two phase 2013 exploration program at the 340,000 acre Angilak Property in Nunavut Territory, Canada. The plan for 2013 will build upon the Lac 50 Trend inferred resource, currently at 2,831,000 tonnes grading 0.69% U3O8 and totalling 43.3Mlbs U3O8(i).

Drilling will expand the current resource, advance additional high-priority uranium targets within the Lac 50 Trend, and test select property-wide targets. Kivalliq intends to drill 25,000 metres of NQ core with three diamond drill rigs and 3,000 metres of reverse circulation ("RC") drilling on exploration targets with a light-weight RC fly rig. Extensive ground based geophysical surveying, prospecting, and soil sampling campaigns are also planned.

The following summarizes both the first and second phases of the proposed 2013 exploration campaign:


--  25,000 metres of diamond drill core focused on expanding the Lac 50    Trend resource, testing new zones along strike and parallel to the    resource and investigating the high priority Dipole and VGR targets.--  3,000 metres of RC drilling to advance multiple untested conductors    along strike and parallel to the Lac 50 Trend resource--  Ground geophysical surveys consisting of magnetics, electromagnetics,    radiometrics and gravity--  Continued mapping and prospecting to advance priority target areas    defined by the 2012 program and identify new targets on a property wide    scale--  Ongoing geological modeling, metallurgical testing, and environmental    studies--  Continued emphasis on community consultation--  Engineering studies focused on camp and infrastructure expansion to    optimize project logistics.--  Update the current Lac 50 Trend Inferred Resource Estimate by the end of    Q1 2014.--  Initiate a Preliminary Economic Assessment scheduled to be completed in    2014
"Based on the positive momentum from the 2012 season, and a 300% increase to the Lac 50 Trend resource over the past two seasons, Kivalliq's board of directors has approved an aggressive exploration strategy at the Angilak Property in 2013," stated Jim Paterson, Kivalliq's CEO. "While maintaining our high standards of environmental stewardship and cost effective exploration, our 2013 exploration goals are clearly defined as follows: increase the inferred resource base in the Lac 50 Trend by drilling high priority and untested conductors near the current inferred resource; demonstrate Angilak's district scale potential by testing unconformity style targets elsewhere on the property; and initiate a Preliminary Economic Assessment scheduled for completion in 2014."
Kivalliq's board of directors has approved a two-phased, $15.5 million exploration program at Angilak for the 2013 season. The first phase, budgeted at $8 million, will commence on February 21, 2013 with the mobilization of crews and equipment to the existing Nutaaq camp. The Company plans to drill from April to June using two diamond drill rigs and one RC rig. Ground geophysical surveying will run concurrently with the drill program until break-up sometime in June. Pending results and market conditions, the Company will commence the second phase of the proposed exploration program at Angilak in June, with continued core and RC drilling and geophysical, geological, geochemical and engineering surveys in the field.