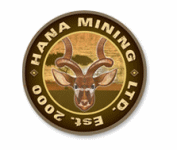 VANCOUVER, BRITISH COLUMBIA -- (Marketwire) -- 02/05/13 -- Hana Mining Ltd. ("Hana" or the "Company") (TSX VENTURE: HMG)(FRANKFURT: 4LH)(BOTSWANA: HANA) is pleased to announce further positive drill results from three deep exploration drill holes at Zone 5 of the Ghanzi sediment hosted Copper-Silver Project in Botswana (Figure 1).

Highlights of deep drilling exploration results:


--  Estimated true width intercepts:    --  1.61% CuEq(1) (1.42% Cu and 13.3 g/t Ag) over 17.36 metres in hole        HA-594c-D,    --  4.77% CuEq(1) (4.03% Cu and 50.7 g/t Ag) over 14.26 metres within a        wider mineralized interval of        3.61% CuEq(1) (3.06% Cu and 38.1 g/t Ag) over 19.09 metres in hole        HA-654-D,    --  1.23% CuEq(1) (1.18% Cu and 4.0 g/t Ag) over 3.51 metres in hole HA-        655-D.
(1) Copper equivalent calculated using US$3.00/lb Cu, US$30/oz Ag and is not adjusted for metallurgical recoveries. The formula used is as follows: CuEq = Cu% + (Ag g/t x 0.01458).
The 2012 deep exploration drill program at Zone 5 was focused on wide 'step out' drilling from known high-grade mineralization (Figure 2). The 'step outs' were located 500 metres away from previous collar intercepts and intersected mineralization approximately 400 metres down dip from the current Inferred Mineral Resource at Zone 5 (Figure 3). All three holes intersected similar mineralization to that intersected near surface at approximately 600-650 metres vertically from surface.
These drilling results confirm the continuity of high-grade copper mineralization at depth at Zone 5 over a defined strike length of 4,000 metres. The results from these holes were not included in the most recent resource estimate used to produce the Preliminary Economic Assessment ("PEA") released 14 May 2012. Zone 5 Inferred Mineral Resource holes were drilled to a maximum depth of 200 metres and produced an Inferred Mineral Resource of 520 MIbs Cu and 6.8 Moz Ag at a 0.40% Cu cutoff. During the 2012 drill programme, Hana completed 63 holes totaling 15,555 metres at Zone 5.
Hana Mining President and CEO, Marek Kreczmer comments; "Zone 5 deep mineralization continues to be open along strike and at depth. The extent of the underground footprint suggests that the size of the resource at Zone 5 could possibly double our earlier estimate. The 2012 high-grade copper results from Zone 5 also have the potential to change the mine plan of the Ghanzi Project."
During 2012, a total of 201 holes were drilled for an aggregate of 40,693 metres. Work focused on exploration and infill drilling at Zones 2, 4, 5 and 6. The 2012 drill program was successful in both discovering the extent of mineralization potential at the Ghanzi Project and increasing the confidence of known mineralization through infill drilling.
To view accompanying Figures 1 to 3, visit the following link:
http://media3.marketwire.com/docs/HMGFig1to3.pdf
Corporate Update
Hana Mining President and CEO, Marek Kreczmer also comments; "management from Hana and Cupric has recently met with the relevant Botswana regulatory authorities and was assured the approval process is progressing. The parties continue to work towards satisfaction and receipt of the outstanding Arrangement conditions. The closing of the Arrangement remains subject to the satisfaction or waiver of such conditions and the final approval of the TSX Venture Exchange. The closing of the Arrangement is expected to occur in February 2013."