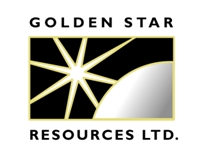 TORONTO -- (Marketwire) -- 02/05/13 -- Golden Star Resources Ltd. (NYSE MKT: GSS) (TSX: GSC) (GHANA: GSR) ("Golden Star" or the "Company") is pleased to announce its Proven and Probable Mineral Reserves (collectively "Mineral Reserves") and Mineral Resources as at December 31, 2012.

During 2012 the Company's exploration strategy focused on drilling at Wassa, where the Company increased Proven and Probable Mineral Reserves by 85% to 1.47 million ounces of contained gold, relative to December 31, 2011. At Bogoso, the combination of mining depletion and improved pit design focused on maximization of cash flow and resulted in a reduction in Proven and Probable Mineral Reserves to 2.84 million ounces.

Sam Coetzer, President and CEO of Golden Star, commented: "The excellent drilling results at Wassa and below the existing Wassa pits have almost doubled the reserves at Wassa Main. This resulted in the life of mine being increased to more than 12 years, assuming the current 2.7 million tonnes per year processing rate. The ongoing drilling program at Wassa is utilizing six drill rigs to test the mineralization down plunge where the zone remains open, in addition to infill drilling within the year-end resource pit shells. We are optimistic that reserves will increase further when we update the resource models and pit designs in the second half of 2013. Depending on the results of the ongoing Wassa Expansion Project scoping study, we will undertake a prefeasibility study expected to be published towards the end of 2013. At Prestea Underground, we are nearing completion of the West Reef Feasibility Study, which should enable the Company to report reserves in July 2013.

"These developments at Wassa and Prestea Underground demonstrate the Company's strategy to unlock value by shifting production to sustainable, lower-cost ore with greater processing recoveries."

Mineral Reserves and Mineral Resources

The Mineral Reserve and Mineral Resource estimates have been estimated by the Company's technical personnel in accordance with definitions and guidelines set out in the Definition Standards for Mineral Resources and Mineral Reserves published by the Canadian Institute of Mining, Metallurgy, and Petroleum and as required by Canada's National Instrument 43-101.

Mineral Reserves

In 2012, the Company replaced its mined Reserves. The replacement was due largely to the addition of Proven and Probable Reserves at Wassa, which grew by 85%.



----------------------------------------------------------------------------PROVEN and         As at December 31, 2012        As at December 31, 2011 PROBABLE MINERAL RESERVES              --------------------------------------------------------------Property, Mineral Reserve         Tonnes  Gold Grade  Ounces     Tonnes  Gold Grade  Ounces Category      (millions)   (g/t)  (millions) (millions)   (g/t)  (millions)----------------------------------------------------------------------------Bogoso/Prestea Proven  Mineral  Reserves  Non-   refractory         1.3      1.82      0.08        1.3      1.64      0.07  Refractory          7.8      2.52      0.64        8.3      2.72      0.73----------------------------------------------------------------------------  Total Proven        9.2      2.42      0.71        9.6      2.57      0.80---------------------------------------------------------------------------- Probable  Mineral  Reserves  Non-   refractory         4.8      2.35      0.36        6.9      2.31      0.51  Refractory         21.2      2.58      1.76       24.2      2.60      2.02----------------------------------------------------------------------------  Total   Probable          26.0      2.54      2.12       31.1      2.54      2.54----------------------------------------------------------------------------Total Proven and Probable  Non-   refractory         6.2      2.23      0.44        8.2      2.21      0.58  Refractory         29.0      2.57      2.39       32.6      2.63      2.75----------------------------------------------------------------------------Total Bogoso/Preste a Proven and Probable            35.2      2.51      2.84       40.8      2.55      3.34----------------------------------------------------------------------------Wassa/HBB Proven  Mineral  Reserves  Non-   refractory         0.8      0.89      0.02        0.6      1.27      0.03 Probable  Mineral  Reserves  Non-   refractory        31.0      1.45      1.45       17.4      1.38      0.77----------------------------------------------------------------------------Total Wassa/HBB Proven and Probable            31.8      1.44      1.47       18.1      1.38      0.80----------------------------------------------------------------------------TOTALS Proven  Mineral  Reserves  Non-   refractory         2.1      1.47      0.10        1.9      1.52      0.10  Refractory          7.8      2.52      0.64        8.3      2.72      0.73----------------------------------------------------------------------------  Total Proven       10.0      2.30      0.74       10.3      2.49      0.82---------------------------------------------------------------------------- Probable  Mineral  Reserves  Non-   refractory        35.9      1.57      1.82       24.3      1.65      1.29  Refractory         21.2      2.58      1.76       24.2      2.60      2.02----------------------------------------------------------------------------  Total   Probable          57.1      1.95      3.57       48.5      2.12      3.31----------------------------------------------------------------------------Total Proven and Probable  Non-   refractory        38.0      1.57      1.92       26.3      1.64      1.38  Refractory         29.0      2.57      2.39       32.6      2.63      2.75----------------------------------------------------------------------------Total Proven and Probable        67.1      2.00      4.31       58.8      2.19      4.14----------------------------------------------------------------------------