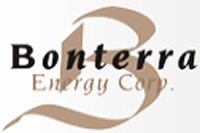 CALGARY, ALBERTA -- (Marketwire) -- 02/05/13 -- Bonterra Energy Corp. (Bonterra) (www.bonterraenergy.com) (TSX: BNE) is pleased to provide an operational update including 2012 highlights, the results of its independent reserve report prepared by Sproule Associates Limited with an effective date of December 31, 2012 and its 2013 budget and guidance.

In 2012, Bonterra maintained its focus on providing investors with a sustainable pace of development, continued growth on a per share basis and stable monthly income through its dividend policy paying out $3.12 per share during the year. The company will maintain this corporate strategy in 2013 by continuing to pursue the development of its lower risk, high return opportunities; predominantly through its horizontal drilling program on its significant Cardium light oil play.

In addition, Bonterra recently completed the acquisition of Spartan Oil Corp. (Spartan), increasing its current production to approximately 13,500 BOE per day that due to a present flush production will reduce to an average of approximately 12,000 BOE per day from the January 25, 2013 acquisition date to December 31, 2013. The company's large, concentrated asset base in the Cardium now totals 250.3 gross (193.7 net) sections, positioning Bonterra as one of the most dominant light-oil, dividend paying companies in the Canadian energy sector. The company currently estimates that it has a greater than 10 year drilling inventory (using four wells per section) that will allow Bonterra to sustain its current business model offering both solid growth and yield to its shareholders.

2012 Operational Highlights


--  Record average daily production for the full year of 6,727 barrels of    oil equivalent (BOE) per day (67 percent oil and liquids), an increase    of 6.0 percent over the same period in 2011.--  Record average daily production of 7,728 BOE per day in the fourth    quarter, an increase of 14.8 percent when compared to the fourth quarter    of 2011.--  Production per share increased to 0.124 BOE per share, an increase of    4.2 percent over 2011.--  Proved plus Probable (P+P) reserves of 45.0 million BOE (approximately    75 percent oil and liquids), a 9.4 percent increase over December 2011    reserves of 41.1 million BOE.--  Added a total of 6.3 million BOE (P+P) reserves which equates to 2.5    times 2012 production.--  Reserves per share (P+P) increased 7.0 percent to 2.28 BOE per share    compared to 2.13 BOE per share in the prior year.--  Reserve life index of 18.0 years on P+P basis and 13.7 years on a proved    basis continues to remain above industry average.
The Company has not released its audited 2012 financial results therefore the numbers provided above are currently estimates and unaudited.
2013 Corporate Guidance
Bonterra closed the acquisition of Spartan in January, 2013 and the following guidance is based on the combined entity.
--  The Board of Directors has approved a capital development program of    $90.0 million which mainly targets light oil prospects through its    Cardium horizontal drill program.--  Currently 29 gross (28.1 net) operated wells are planned. Bonterra will    also participate in drilling 13 gross (4.3 net) non-operated wells    during 2013.--  Bonterra's full year production levels are expected to average between    12,000 and 12,200 BOE per day.--  Operating costs are expected to average approximately $15.00 per BOE on    an annualized basis.--  The dividend payout ratio is estimated to range between 50 and 65    percent of funds flow in 2013. As previously announced, Bonterra will be    increasing the dividend to $0.28 per share beginning with the dividend    that will be paid on March 31, 2013. Bonterra's Board of Directors and    management will continue to take into account production volumes and    commodity prices in determining monthly dividend amounts and will    consider increasing the dividend should crude oil pricing remain    favourable coupled with anticipated production increases.--  Bonterra's present net debt to cash flow from operations on a pro forma    basis is approximately 1.0:1.0.--  Bonterra has approximately $570 million in tax pools, extending the    company's estimated tax horizon to 2016.