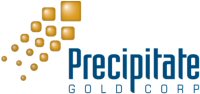 VANCOUVER, BRITISH COLUMBIA -- (Marketwire) -- 02/04/13 -- Precipitate Gold Corp. (the "Company" or "Precipitate") (TSX VENTURE: PRG) is pleased to announce remaining results from multi-phase reconnaissance surveys of its Juan de Herrera concession applications in the Dominican Republic's Tireo Gold Trend.

Precipitate's first pass programs of sampling and mapping, conducted in late 2012, have refined and expanded two priority target areas, the Melchor and Ginger Ridge gold zones on the Juan de Herrera concession.


--  Sampling and mapping at the Ginger Ridge zone has identified a    prospective area extending at least 1,100 metres long, with rock grab    samples up to 11.8 grams per tonne ('g/t') gold and greater than 100 g/t    silver.--  Precipitate's rock and soil sampling at the Melchor zone, has identified    an area of surface quartz vein outcrop and float, where rock grab    samples have yielded results of 6.3 g/t gold and 4.0 g/t gold.
Jeffrey Wilson, Company President & CEO stated, "Our property wide reconnaissance surveys initially focused on five concession areas, covering more than 3,000 hectares underlain by Tireo volcanic rocks. Within a period of less than three months, our field crews have successfully identified two prospective areas for gold mineralization at Ginger Ridge and Melchor. We are particularly pleased that rock grab sampling at Ginger Ridge has discovered gold (with silver) mineralization over an area extending more than one kilometre ('km'). Moving from concept to broad scale target this quickly is a testament to the merits of this underexplored region. Our next phase of detailed surface sampling and mapping will focus on these two prospective zones."
The planned follow up program at Ginger Ridge and Melchor is expected to commence before the end of February and will include geological mapping, detailed ridge & spur soils, and rock chip sampling.
At Ginger Ridge, wide-spaced follow up prospecting and rock-soil-silt sampling has discovered a prospective area measuring at least 1.1 km long. Rock grab samples have identified outcrop and subcrop exposures of altered Tireo volcanics with cross-cutting quartz veins and veinlets up to 30 centimetres ('cm') wide. Select highlight analytical results for rock grab sampling include 11.8 g/t gold ('Au') & 39 g/t silver ('Ag'), 5.8 g/t Au & greater than 100 g/t Ag, 0.73 g/t Au & 0.39 g/t Au. The prospective zone is defined by prospecting, anomalous rock and soil results and anomalous silt results in creeks draining Ginger Ridge. The size and scope of this mineralization will be determined by ongoing work. Please see the accompanying map (
http://media3.marketwire.com/docs/851050.pdf
) for further details on the Ginger Ridge area.
At the Melchor zone, follow up rock and reconnaissance soil sampling has identified a large area of outcropping quartz veins and related debris, which commonly showing cockscomb and colloform banding textures, a common feature in epithermal gold systems. Rock grab samples from this area have yielded gold results ranging from sub-anomalous to 6.3 g/t. Quartz vein widths range from hairline to 2m and have exposed extents up to 30m. Analyses of the soil and rock samples show that gold corresponds to elevated copper, zinc, lead and mercury values. The size and scope of this mineralization will be determined by ongoing work.