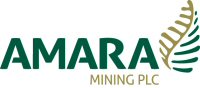 LONDON, UNITED KINGDOM -- (Marketwire) -- 02/04/13 -- Amara Mining plc (formerly Cluff Gold plc)(AIM: AMA)(TSX: AMZ), the dual AIM and TSX-listed West African focused gold mining company, is pleased to announce the results of the final 16 holes of the 106 hole, 2011/2012 sulphide drilling programme at its Yaoure Project in Cote d'Ivoire.

HIGHLIGHTS:


--  All of the 106 holes drilled have encountered mineralisation--  Drill results to date continue to confirm the potential for a large,    moderate-grade sulphide deposit underlying the previously mined oxide    resources at Yaoure--  Significant intercepts including:    --  6.2m at 3.4g/t from 384.0m in hole YDD0071    --  9.0m at 5.1g/t from 377.0m in hole YDD0102    --  13.0m at 5.6g/t from 392.0m in hole YDD0110--  Inferred mineral resource update targeted for Q1 2013
Peter Spivey, Chief Executive Officer of Amara, commented:
"These final drilling results continue to demonstrate Yaoure's potential to become an important part of Amara's portfolio. It is particularly encouraging that all the holes have encountered mineralisation, suggesting we have not yet defined the limits of the deposit and providing scope for further exploration. Work is ongoing on the resource update, which we expect will deliver a significant increase on Yaoure's current resources."
Drilling Programme
The diamond drilling programme at Yaoure concluded in early November 2012, with a total of 23 holes (1,967 metres) drilled in 2011 and a further 83 holes (29,988 metres) drilled in 2012. All 106 holes encountered mineralisation and the results of the final 16 holes, plus the remaining 7 of the 11 deepened holes(i), are reported in the Appendix. A drilling map is available on Amara's website at
http://www.amaramining.com/Operations/Yaoure
.
In line with the previously reported drilling results, these latest results continue to confirm the potential for a large-scale sulphide deposit underlying the previously mined oxide resources at Yaoure. Amara's focus is on the wider, moderate-grade, shallow-dipping zones of mineralisation where continuity is being established. It is expected that the thinner, higher grade sub-vertical cross-cutting veins with frequent visible gold will enhance the overall grade of the orebody.
Amara has now drilled out an area with an across-strike width of 1km targeting both the Yaoure Central and CMA mineralisation on drill fence lines with an average spacing of approximately 160m by 160m. Every hole drilled to date in the current drilling programme at Yaoure has intersected mineralisation. The confirmation of mineralisation in these final holes suggests that the extent of the orebody has not yet been defined. Therefore a key element of Amara's strategy at Yaoure for 2013 is to continue step-out drilling with the intention of understanding the full extent of the mineralisation associated with the Yaoure Central and CMA pits. In addition, in-fill drilling is being conducted to demonstrate the level of continuity of the higher grade intercepts reported.