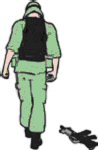 TORONTO, ONTARIO -- (Marketwire) -- 02/04/13 -- On Friday, February 1, the Federal Court of Canada released a decision granting United Stated (US) war resister Jules Tindungan a new hearing before the Immigration and Refugee Board (IRB). The Court found errors in the original IRB decision pertaining to issues which are at the heart of asylum claims by US soldiers in Canada.

Mr. Tindungan is one of dozens of former US soldiers who have sought asylum in Canada because of their objection to the wars in Iraq and Afghanistan. Tindungan refused to return to combat for the United States military in 2008 after serving a 15 month combat tour and seeing first-hand the breaches of the Geneva Conventions committed by US forces.

Mr. Tindungan argued before the Refugee Board that he faces differential punishment in the US because he has spoken out publicly against US military actions in Iraq and Afghanistan. He also argued that he would not get a fair trial if returned because the US court-martial system is not an independent and impartial tribunal as required under Canadian and International law.

After reviewing Tindungan's case, the Federal Court found that Tindungan "submitted voluminous documentary evidence from credible, third-party sources ... that suggest that the US has not complied with its international obligations." However, the Refugee Board improperly ignored this evidence.

The Court further found that the US court-martial system "fails to comply with basic fairness requirements found in Canadian and International Law", therefore impacting whether Tindungan would receive a fair hearing if returned to the US.

While Mr. Tindungan presented compelling evidence that the US military justice system fails to meet basic fairness standards that are internationally recognized to be fundamental to any tribunal system, this evidence was not taken into consideration by the Refugee Protection Division (RPD).

The Court also found that the Refugee Board failed to deal properly with evidence that soldiers, such as Tindungan, who have spoken out publicly about their objections to US actions in Iraq and Afghanistan are subjected to particularly harsh punishments because of having vocalized their political opinions.

"This decision underlines what individuals like war resister Kim Rivera have been raising all along-that soldiers who speak out against these wars face harsher punishment, and have no recourse within the US military justice system," said Michelle Robidoux, spokesperson for the War Resisters Support Campaign.

On September 17, 2012 a Federal Court judge denied Kim Rivera's request for a stay of removal, finding the possibility of her arrest and detention in the US to be "speculative". Ms. Rivera was arrested three days later as she presented herself at the US border. Rivera is now facing court martial at Fort Carson, Colorado, and likely incarceration.

In an open letter to Prime Minister Stephen Harper published January 26, 2013 in The Globe and Mail, prominent Canadians including broadcaster Andy Barrie, Alexandre Trudeau, Dr. John Polanyi and many others stated: "We respectfully call on the Minister of Citizenship, Immigration and Multiculturalism Jason Kenney to cease all deportation orders against US Iraq War resisters and make provision for their permanent residence in Canada."