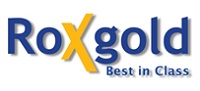 TORONTO, ONTARIO -- (Marketwire) -- 02/28/13 -- Roxgold Inc. (TSX VENTURE: ROG) ("Roxgold" or the "Company") is pleased to announce results from the current infill drilling program at its 100% owned Yaramoko Concession in Burkina Faso. Today's results continue to demonstrate the continuity of high grade mineralization down plunge within the 55 Zone.

HIGHLIGHTS


-- 16.8 grams per tonne gold ("gpt") over 6.0 meters within a wider intercept of 6.7 gpt over 29.1 meters in drill hole YRM-DD-13-263-- 28.8 gpt gold over 3.8 meters within a wider intercept of 17.1 gpt over 6.9 meters in drill hole YRM-DD-12-242.-- 20.6 gpt gold over 4.6 meters within a wider intercept of 15.6 gpt over 6.9 meters in drill hole YRM-DD-13-264-- 7.9 gpt gold over 3 meters in drill hole YRM-13-DD-259 which tested a cross structure on the western side of the 55 Zone.
(i)All intercepts above are reported as core length, estimated true widths are reported in Table 1.
"Today's results continue to add to the growing high grade story of the 55 Zone. Hole 263 is a very strong intercept in terms of both grade and width and in a key part of the deposit," stated John Dorward, President and CEO of Roxgold. "Infill drilling between 400 and 750 meters depth continues to add bulk to the down plunge extension of the 55 Zone. In addition, with mineralization intersected in cross structures higher up in the system, we remain confident in the ability of our deposit to keep growing."
Summary of Results
---------------------------------------------------------------------------- Est. Est. Depth Depth Vertical True From To Depth Value Over WidthHole ID Zone Azimuth Dip (m) (m) (m) (g/t) (m) (m)----------------------------------------------------------------------------YRM-12-DD- 242 55 360 -60 904.8 911.7 760 17.1 6.9 3.3including 904.8 908.6 28.9 3.8 1.8YRM-12-DD- 257 55 350 -58 450 NSRYRM-12-DD- 258 55 X 50 -45 NSRYRM-13-DD- 259 55 X 230 -45 66 69 50 7.9 3.0 NA(ii)YRM-13-DD- 261(i) 55 360 -50 595 602 520 3.0 7.0 3.7YRM-13-DD- 262 55 5 -50 290 NSRYRM-13-DD- 263 55 360 -60 566.9 596 500 6.7 29.1 17.3including 55 566.9 570.8 5.0 3.9 2.3including 55 579 583 12.1 4.0 2.4and 55 587 593 16.8 6.0 3.6including 55 587 591 22.2 4.0 2.4YRM-13-DD- 264 55 360 -62 765.1 772 620 15.6 6.9 3.4including 765.1 769.7 20.6 4.6 2.3YRM-13-DD- 265 55 360 -55 720.1 723.1 580 6.1 3.0 1.9----------------------------------------------------------------------------(i)261 followed up on 260 which was abandoned due to poor ground conditions and was terminated at 286.5m(ii) True width of this zone is unknown at this time
Table 1: Results from current drilling (No top cut was applied to the assays. All intercepts are reported as downhole lengths.)
All results released today with the exception of drill holes YRM-13-DD-258 and YRM-13-DD-259 are infill drill results from the 55 Zone. Drill holes 258 and 259 were designed to target possible northwest trending cross structures within the 55 Zone. Drill hole 259 intersected high grade mineralization, within a shear zone, located along the contact between mafic volcanic rocks and granites.
Drill hole YRM-12-DD-242 was drilled to an approximate vertical depth of 620 meters in October 2012 and returned no significant results. Following a reinterpretation of the geological model, the hole was re-entered and deepened as part of the current drill program and subsequently intersected strong mineralization at 760 meters vertical depth.
Roxgold continues to conduct an infill drilling program between 400 and 750 meters vertically within the currently identified envelope of mineralization. The Company is currently compiling a resource update in accordance with its guidance for dissemination in the first quarter of 2013. The current resource estimate extends to a depth of approximately 400 meters and plunges to the east. The 55 Zone has been drill tested to a depth of 900 meters vertically and remains open down plunge and to the east.
To view a longitudinal section and diagram outlining the cross structure targets, including today's results, click
Longsection280213
and
Cross_Structure280213
. Two diamond drill rigs are currently on site continuing the infill drilling program. An additional diamond drill rig is engaged in drilling some of the Company's high priority regional targets. Roxgold will continue to release infill drilling results for both the 55 Zone and the regional program in a timely fashion as results become available.
Qualified Person
Pierre Desautels, P.Geo, of AGP Mining Consultants Inc., a Qualified Person within the meaning of National Instrument 43-101 who is an independent consultant to the company, has verified and approved the data disclosed in this release. This includes the sampling, analytical and test data underlying the information.
Quality Assurance/Quality Control
Drill holes reported in this press release were drilled using HQ and NQ2 sized diamond drill bits. Company personal are located at the drill site. Contractors and employees of Roxgold conducted all logging and sampling. The core was logged, marked up for sampling using standard lengths of two meters outside of the "zone" and adjusted to lithological contacts up to one meter within the "zone". Samples are then cut into equal halves using a diamond saw. One half of the core was left in the original core box and stored in a secure location at the Roxgold camp within the Yaramoko area. The other half was sampled, catalogued and placed into sealed bags and securely stored at the site until it was shipped to either ALS Chemex in Ouagadougou or Act Labs in Ouagadougou ("The Labs"). The core was dried and crushed by The Labs and a 150 gram pulp was prepared from the coarse crushed material. The Labs then conducted routine gold analysis using a 50 gram charge and fire assay with an atomic absorption finish. Samples within the 55 Zone or samples returning over 5 grams per tonnes are additionally assayed using a metallic screen analysis in which a 1000 gram pulp is analyzed. The screening of samples produced two size fractions - less than 100 micrometres (um) and greater than 75 um. These fractions are then analyzed independently by fire assay and atomic absorption. Quality control procedures included the systematic insertion of blanks, duplicates and sample standards into the sample stream. In addition, The Labs inserted their own quality control samples.
About Roxgold
Roxgold is a TSX.V listed exploration and development company with its key asset, the 167 Km2 Yaramoko concession, located to the south of and contiguous to SEMAFO's Mana Project in the Hounde region of Burkina Faso, West Africa. Roxgold is focused on further exploring the Company's 100% owned Yaramoko concession and advancing the 55 Zone.
Forward-Looking Statements
This news release may contain forward-looking statements. These statements are based on information currently available to the Company and the Company provides no assurance that actual results will meet management's expectations. Forward-looking statements in this news release include statements that describe the Company's future plans for the exploration and development of the 55 Zone and regional exploration in 2013, the potential of the 55 Zone including its prospectivity at depth and the extensions of the mineralized area at depth, the objectives or goals of exploration programs, expected completion of assay backlog, and timing of future announcements, and include words to the effect that the Company or management expects a stated condition or result to occur. Forward-looking statements may be identified by such terms as "anticipates", "believes", "could", "estimates", "expects", "may", "shall", "will", or "would". Forward-looking statements are based on assumptions and address future events and conditions, by their very nature they involve inherent risks and uncertainties. The assumptions upon which forward looking statements in this news release are made include the reasonable assumptions of management with respect to the geologic model, that third party labs will continue to process assays at the current pace, results of exploration will warrant further work, and current macro-economic conditions will continue to prevail .Actual results relating to such future events and conditions could differ materially from those currently anticipated in such statements for many reasons such as: changes in management, changes in general economic conditions and conditions in the financial markets; changes in demand and prices for minerals; litigation, legislative, environmental and other judicial, regulatory, political and competitive developments and other matters discussed in this news release. This list is not exhaustive of the factors that may affect any of the Company's forward-looking statements. These and other factors should be considered carefully and readers should not place undue reliance on the Company's forward-looking statements. The Company does not undertake to update any forward-looking statement that may be made from time to time by the Company or on its behalf, except in accordance with applicable securities laws.
Neither TSX Venture Exchange nor its Regulation Services Provider (as that term is defined in the policies of the TSX Venture Exchange) accepts responsibility for the adequacy or accuracy of this release.


Contacts:
Roxgold Inc.
John Dorward
President and CEO
+1 416-203-6401
jdorward@roxgold.com
www.roxgold.com