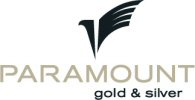 WINNEMUCCA, NEVADA -- (Marketwire) -- 02/28/13 -- Paramount Gold and Silver Corp. (NYSE MKT: PZG)(TSX: PZG)(FRANKFURT: P6G)(WKN: A0HGKQ) ("Paramount") announced today the results of a Preliminary Economic Assessment ("PEA") for its 100%-owned San Miguel gold and silver project located in Chihuahua State, Mexico. The PEA was prepared by Metal Mining Consultants ("MMC") of Denver, Colorado incorporating a resource model developed by Mine Development Associates ("MDA") of Reno, Nevada. The PEA confirms that the San Miguel project represents an unusually robust economic opportunity to develop a low cost mine in the prolific Sierra Madre belt in Mexico. The complete PEA will be filed at SEDAR within 45 days.

Commenting on the results, Paramount CEO Christopher Crupi stated: "This Preliminary Economic Assessment defines a project that begs to be built in the present environment. The low initial capital costs make San Miguel a relatively low-risk venture for a mid-size company and there is immense potential for adding to resources, extending mine life and increasing throughput. We will now determine if we should proceed with development options or continue to expand and enhance the project."

In their analysis, MMC proposed a 4,000 tonnes per day mill fed by open pits and underground mines, resulting in a projected 14 year operation with a total metal production of 803,000 ounces of gold and 43.2 million ounces of silver (1,637,000 ounces of gold equivalent at the base case gold-to-silver price ratio of 51.7 to 1). Start-up capital costs including working capital are estimated at $243 million. Sustaining capital costs over the project's life are projected to be an additional $227 million. With $70.3 million in contingencies, total life-of-mine capital costs are estimated at $540 million. Projected life-of-mine average cash operating costs are $512 per ounce of equivalent gold recovered. The total cost of production (including cash operating costs and total capital and contingency costs over the life of the mine) is estimated at US$842 per ounce of gold equivalent, which compares favorably with current producers in the region.

At a gold price of $1500 per ounce and a silver price of $29 per ounce (the 3 year trailing average of gold and silver prices at end of January 2013), San Miguel has an estimated $1.1 billion pre-tax net cash flow, a $707 million pre-tax net present value ("NPV") at a 5% discount rate and a highly accretive internal rate of return of 33.2%. At recent spot prices of $1600 gold and $33 silver, San Miguel's projected economics improve to $1.3 billion in pre-tax net cash flow, $893 million of net present value at a 5% discount rate and a 39.3% IRR. At recent metal price highs of $1,900 per ounce of gold and $36 for silver, the estimated NPV rises to $1.2 billion with a 48.3% IRR.

Mineral Resources

In September 2012, MDA completed a National Instrument 43-101 compliant global resource estimate for the San Miguel project (see news release dated September 5, 2012). The San Miguel database used for MDA's resource estimate includes 511 core and reverse circulation drill holes totaling over 128,000 meters.