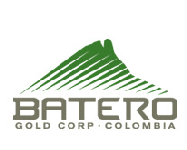 VANCOUVER, BRITISH COLUMBIA -- (Marketwire) -- 02/28/13 -- Batero Gold Corp. (TSX VENTURE: BAT) ("Batero" or "the Company") is pleased to provide a corporate update regarding the successful exploration and development efforts at its Batero-Quinchia Project ("the Project"). Batero continues to make significant progress in both advancing the Project's La Cumbre gold deposit towards development and defining high priority exploration targets for the Company's 2013 drill program.

Preliminary Economic Assessment for La Cumbre Oxide Gold Deposit Anticipated for Q2 2013

Batero expects to release a Preliminary Economic Assessment ("PEA") during the second quarter of 2013. Progress to date includes infill drilling of the high grade core, geotechnical drilling to assess pit wall slope angles and stability, metallurgical bottle roll and column tests on a matrix of mineralized units, and an infrastructure assessment. Geotechnical engineering is ongoing with Knight Piesold. The results of this engineering, as well as both the results of all 2012 drilling and metallurgy test work completed by C.H. Plenge & Cia. S.A. and SGS del Peru S.A.C., will be utilized by Roscoe Postle Associates Inc. to produce this PEA, which will require no further drilling.

Batero is focused on moving the near surface oxidized gold mineralization through full feasibility to construction as soon as possible. The Company interprets the dominantly fracture controlled near surface oxidized gold mineralization to be amenable to a lower cost leach process.

Please see 'Figure 1 - Batero-Quinchia Deposit - Focus on Near Surface Oxide Mineralization': http://media3.marketwire.com/docs/b227m.pdf

Following the completion of the PEA, the Company expects to initiate a full Feasibility Study during the second half of 2013. Currently, the Company is assessing all options in preparation for the initiation of this Feasibility Study, including the coordination of final metallurgical testing, hydrological studies, and the remaining environmental baseline studies. Batero anticipates that the Feasibility Study will reach completion within 12 months of commencement. The Company is fully funded to proceed through this Feasibility Study without any dilution to shareholders.

"Batero continues to make progress in evaluating an optimal mine scenario," stated Brandon Rook, Batero's Chief Executive Officer. "Considerations include both a leach processing circuit and the optimum starter pit production rate from the higher grade oxidized gold mineralization at La Cumbre, which represents just one of three porphyry deposits at the Batero-Quinchia Project. The development of a prospective starter pit at La Cumbre could potentially serve as the first phase of a larger staged mine development. Our progress on this strategic decision has been greatly accelerated by the operational expertise of our strategic partner, Consorcio Minero Horizonte."

2013 Exploration Program - High Priority Drill Targets and New High Grade Samples

Batero is pleased to announce that its 2013 work program includes an exploration budget. The Company will utilize this budget to focus on new discoveries at the Project, specifically targeting the 60% of the concession area that remains unexplored. The Company has identified three new areas at the Project that are considered highly prospective, and anticipates building upon the field work to date to identify additional targets. The primary goal of the exploration program will be to discover areas of high grade epithermal gold mineralization. The Company has identified over one kilometre of historic tunnels at the Project, and recently discovered additional tunnels by tracing out gold-in-soil soil anomalies within the northeast geographic sector of the concession. Samples of brecciated rock and vein material from these tunnels returned high-grade gold assays.